The God of War franchise is a behemoth. Kratos is an icon for PlayStation and was one of the few characters to compete with the likes of Master Chief. A series with over 50 million copies sold, which was reported in 2020. With God of War Ragnorok on the way this year, I thought it would be fitting to rank them before its release that comes later this year.
7. God of War: Chains of Olympus
Blades of Olympus is the weakest of the franchise easily for me. It does show more of Kratos and his life and of course, that's interesting, but the plot felt weaker than many of the others. The problem with Chains of Olympus was that it never really excelled in anything. To be fair to Chains of Olympus the hardware of the PSP was holding it back a bit and it was Ready at Dawn Studio's first attempt at God of War so it had a lot to live up to.
6. God of War: Ascension
Ascension was always going to struggle as it was released after the epic finale of the trilogy. It was still a perfectly fine game but had by far the weakest storyline in my opinion. If anything Ascension just felt like an unnecessary addition to the franchise. Especially as combat didn't improve from three and the boss fights were never going to compare.
5. God of War: Ghost of Sparta
Improving upon Chains of Olympus in every way. This is one of my favourite plots and it's actually surprising that this wasn't a main title in the series. We discover Kratos had a brother who was taken away by the Gods as they feared a marked warrior who would be their demise. Ironically it was Kratos who was the marked warrior, but the story brings about a lot of symbolism and foreshadowing for the series. Ghost of Sparta is only held back by its short length and unfortunately, the lack of huge moments compared to the others, which it couldn't do since it wasn't a main title.
4. God of War
The beginning of an amazing journey. Kratos had great character building in this instalment. It's often hard to have a character be so influential in the first game, but they did it. We begin in war and Kratos knows the battle will end in failure, so in despair he calls to Ares and offers his soul. Ares answers him. Ares soon betrays Kratos tricking him into murdering his own family, this is where Kratos truly became Kratos.
The hack and slash adventure brings us from Hell and Back. Looking for Pandora's box for a way to defeat Ares was a simple plot, however, since Kratos is so complicated it works well. Seeing the Gods support Kratos on his journey and noticing the sparse foreshadowing brings nuance to the first instalment.
3. God of War 3
It doesn't get more gruesome than this. Tearing off a God's head or gouging Poseidon's eyes out, except we luckily got to see it from Poseidon's perspective. God of War 3 probably has the weakest plot due to how it is simply killing Zeus and any God that tries to stop Kratos. Although the enthralling boss fights were a spectacle like fight Cronos. I don't think any boss fights make you feel so small and hopeless. The combat was perfected for the last in the trilogy and had the best boss fights easily.
2. God of War (2018)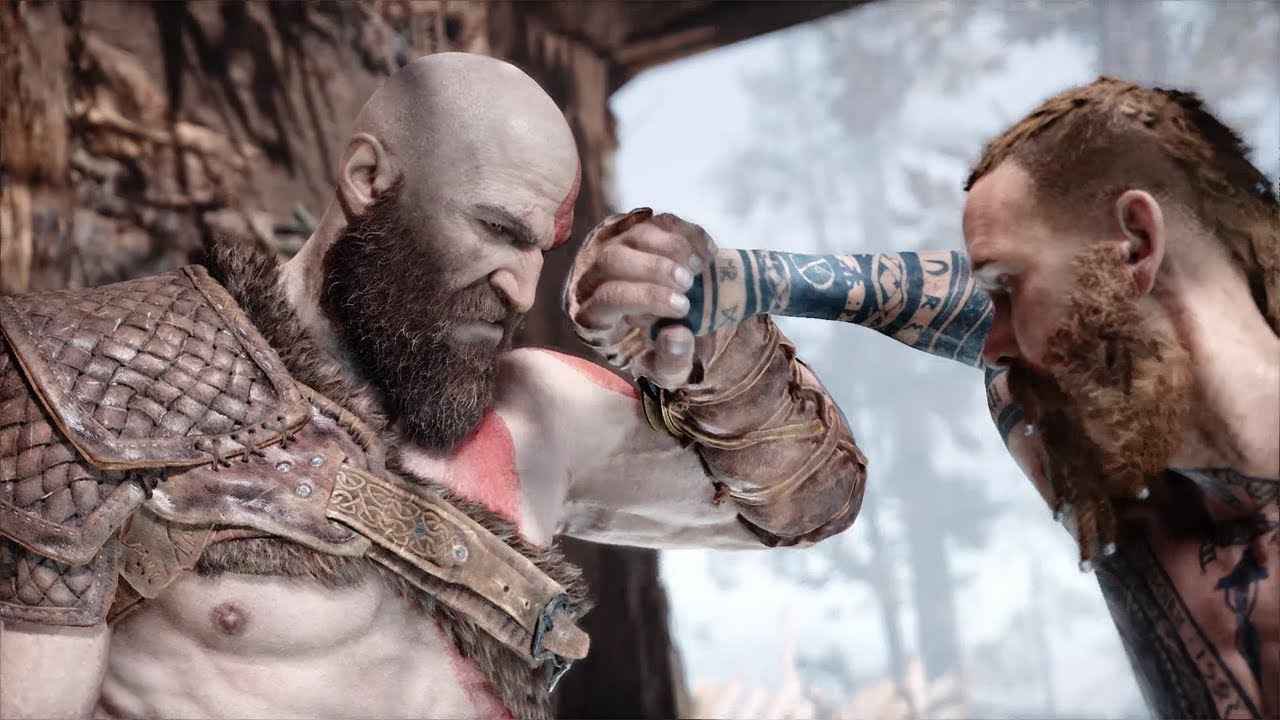 Graphically breath-taking, the music was mesmerising. We see an all-new wiser and calmer Kratos. Since Kratos had gotten his revenge it becomes abundantly clear that it doesn't really do anything except leave a trail of tragedy and misery. But now Kratos has something to protect and that's his son. Seeing how violence never brought him happiness or peace, Kratos doesn't want to fight in the new Norse setting. Although this proves that the past never forgets and the Ghost of Sparta is known, even to the Norse Gods.
Again the plot is quite simple originally with the goal of spreading the ashes of his wife, Faye. The plot begins to change as we see Kratos is afraid of Atreus becoming like him and trying to hide the fact that his son is a God. The combat is unbelievable. It's gritty and feels gruesome. The Leviathan axe is another iconic weapon in the making. The combat changed from a hack and slash to a more personal third-person action game. It's so fluid and gritty, especially with the game looking like it has been taken in the one continuous shot infinitely improving the immersion.
1. God of War 2
The ultimate sequel. God of War 2 simply improved upon everything its predecessor did. Better story, combat, graphics, character development, bosses and set pieces. Once again Kratos is betrayed by Zeus the king of Gods. I think God of War 2 brings us the best story from the series to date and some of the most interesting concepts like time travel, which is usually messy but flows quite well. We're brought to some of the most beautiful areas seen in God of War such as the ancient city of Rhodes. and had decent puzzles to go along with it. There's little else to say bar that it improved upon everything we already knew about God of War.