Welcome to our Quick Start Guide To Multi Shot/Guided Arrow Physical Bowazon for Diablo 2 Resurrected (D2R). In this guide we will be giving a simple breakdown on the Skills, Stats, Breakpoints, and Gear used in this build.
Build Synapsis
The Multi shot/Guided Arrow Physical Bowazon build is a heavily gear dependent build. The build relies on the skills Multiple Shot, Guided Arrow, and Penetrate. Once a certain gear threshold has been reached, this build can be used to clear large waves of enemies using Multiple Shot such as the Cow Level and Chaos Sanctuary in Hell difficulty.
---
Skills
The following section lists the core abilities for the build.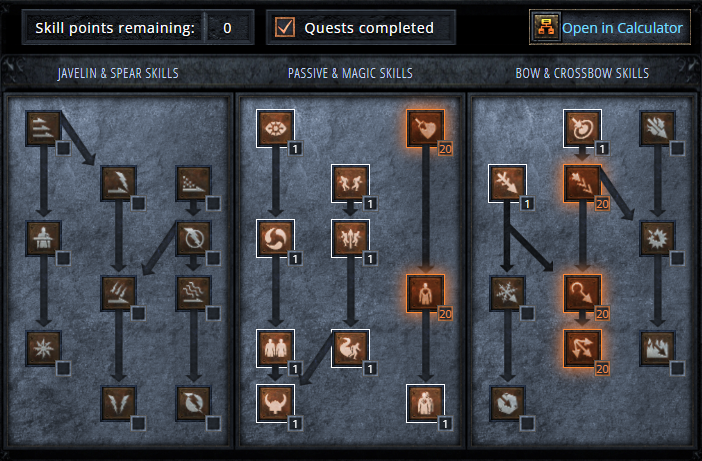 1 point in all Prerequisites
20 points Multiple Shot
20 points Guided Arrow
20 points Strafe
20 points Critical Strike
20 points Penetrate (10 if using Razortail)
---
Stat Points and Attributes
In this section we will be listing the stat points distribution recommended for this build.
Strength
Dexterity
Vitality
Energy
Enough for gear
(Est. 100)
Enough for gear (Est. 150)
Everything Else
None
---
Gear
In this section we will list the gear for this build. This build is very gear dependent to be effective.
Main Damage Build
Optional Starter Items
Weapon: Upgraded Goldstrike Arch, Eaglehorn, Harmony, or Buriza-Do Kyanon
Gloves: Laying of Hands, Lava Gout Bloodfist, or Sander's Taboo
Boots: Waterwalk, Aldur's Advance, Natalya's Soul, Infernostride, or Hsarus' Iron Heel
Belt: Gloom's Trap, String of Ears, Goldwrap, or Nightsmoke
Ring 1: Angelic Halo
Ring 2: Rare ring with % Life and Mana Stolen per Hit
Amulet: Angelic Wings, The Cat's Eye, Highlord's Wrath, Atma's Scarab, or The Mahim-Oak Curio
Charm 1: Any Hellfire Torch for stats
Charm 2: Annihilus
Charm 3: Any Charm with Maximum Damage, Attack Rating, and Life
Charm 4: Any Bow Skiller Grand Charm
Charm 5: Any Charm with Life, Resistances, Mana, Strength, or Faster Hit Recovery, depending on needs for reaching Breakpoints and survivability
---
Mercenary
In this section we will talk about mercenary choices and gearing.
Act 1 Cold Mercenary
If you are using a Windforce bow, the Act 1 Cold Mercenary with the Faith Rune Word is an option.
Gear:
Act 2 Blessed Aim/Might/Holy Freeze Mercenary
If you are using the Faith Rune Word, an Act 2 Blessed Aim/Might/Holy Freeze Mercenary is you best option.
Gear:
Optional Act 2 Mercenary Gear
---
Breakpoints
In this section we will list the breakpoints for the build.
Faster Hit Recovery Breakpoints
| | | | | | | | | | | |
| --- | --- | --- | --- | --- | --- | --- | --- | --- | --- | --- |
| Frames per action | 13 | 12 | 11 | 10 | 9 | 8 | 7 | 6 | 5 | 4 |
| Faster Hit Recovery required to reach Breakpoint | 0% | 5% | 10% | 16% | 24% | 37% | 54% | 86% | 152% | 360% |