As previously reported by Sony and Famitsu, the Sony Group announced its consolidated financial results for fiscal year 2021, revealing that group-wide sales and operating income for fiscal year 2021 totaled 9,921.5 billion yen and 1,202.3 billion yen, respectively, both record highs, and also their future plans for Bungie acquisition and the Metaverse.
Based on this announcement, a "Management Policy Meeting for FY2022" was held for the media and analysts today, May 18, 2022, attended by Mr. Kenichiro Yoshida, Chairman and CEO of Sony Corporation, and others. Pictures courtesy of Famitsu.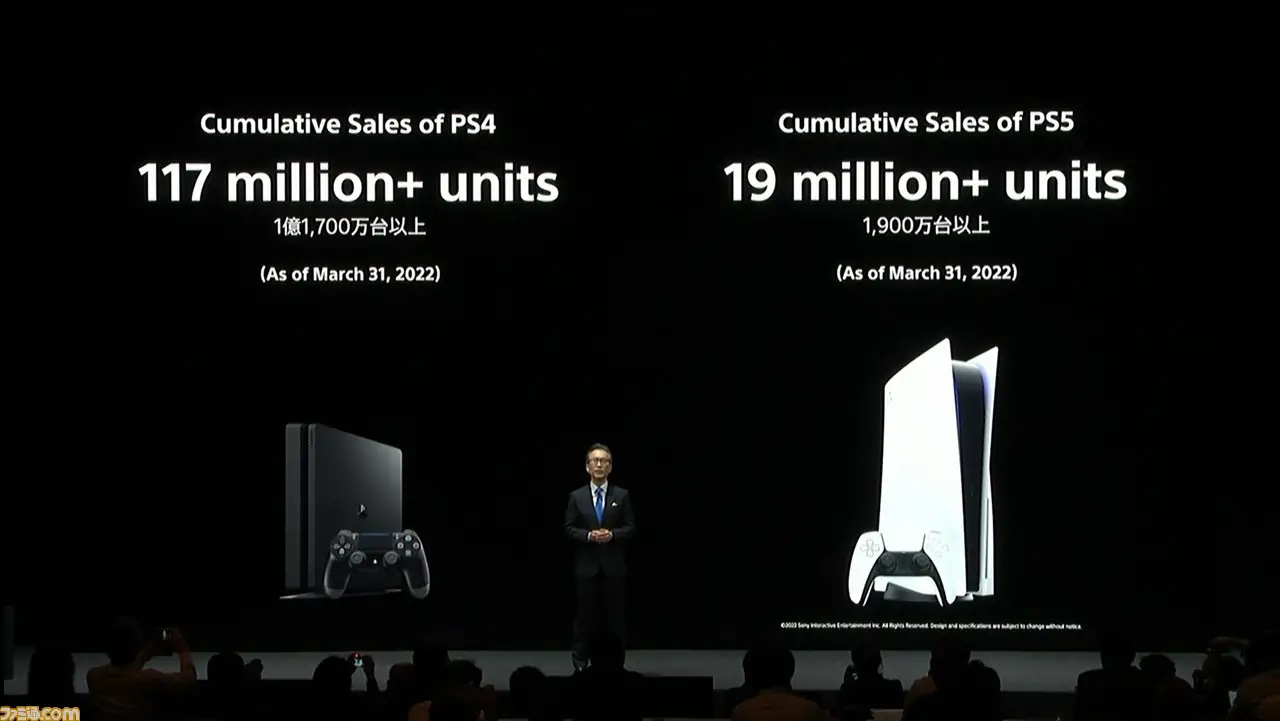 Mr. Yoshida explained that Sony Group is leading in the game business with sales of approximately 2,656.3 billion yen in fiscal year 2021, accounting for approximately 30% of total profits, and that the Sony Group will continue to focus on this business in fiscal year 2022 under the Group's mission statement, "Filling the world with excitement through the power of creativity and technology."
Regarding the PlayStation 5, the company's latest hardware, he reiterated that it has sold 19 million units worldwide through March 31, 2022, and expects to sell 18 million units in FY2022.
In addition, cumulative sales via the PlayStation Network network have exceeded 1.8 trillion yen, with more than 100 million accounts currently using the service. Sony also explained that in order to further strengthen the PlayStation Network, PlayStation Plus will be extensively renewed and will be rolled out in June.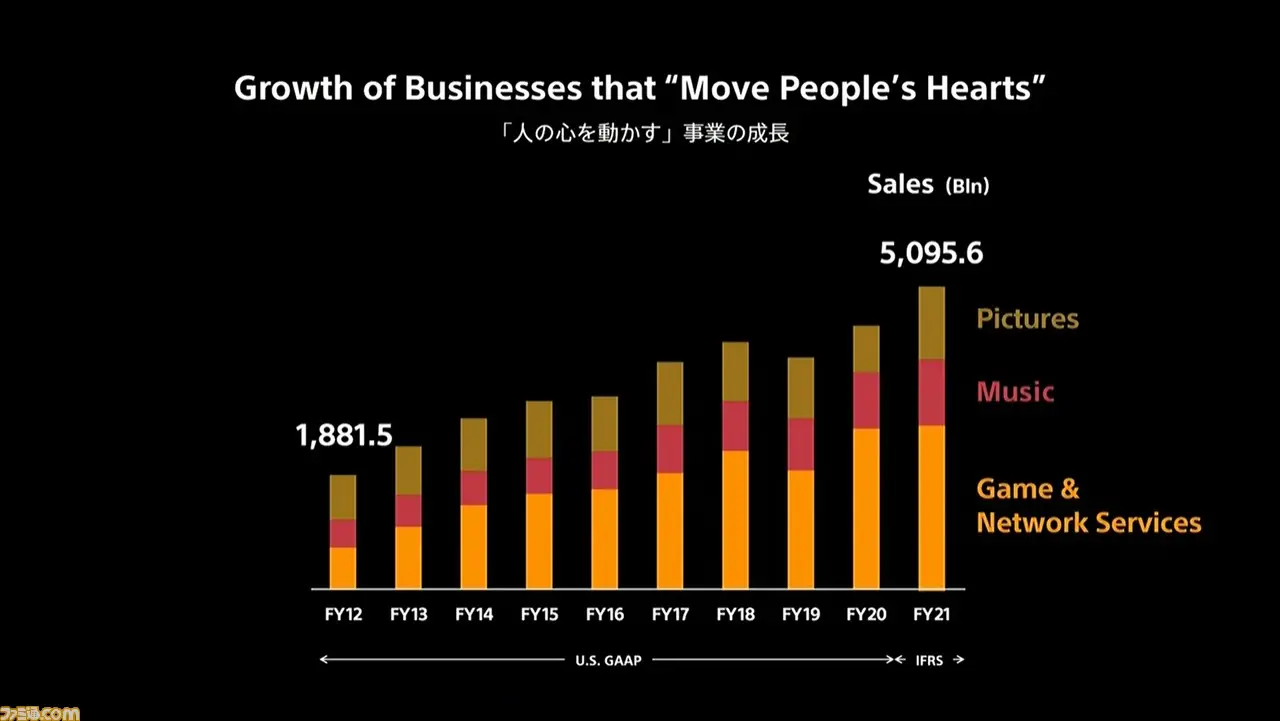 One of the areas that Sony will be focusing on in the future is the Metaverse, an "emotional space" that will "move people's hearts". The Metaverse, which is a live network space, will be an ideal place for Sony to develop its policies, and "in the Metaverse, they will create new entertainment experiences by leveraging their unique strengths in diverse businesses and core game technologies.
As previously reported, Sony Interactive Entertainment plans to acquire Bungie, and Yoshida is hoping that Bungie's expertise in live services, accumulated through the development of the "Destiny" series and other titles, will be key to Sony's expansion in the Metaverse space. "We want to learn live-service know-how from Bungie," Yoshida said. He then revealed that the plan is to develop more than 10 live service games from PlayStation Studios by fiscal year 2025.
During the Q&A session, Mr. Yoshida made it clear that they will continue to invest in this area as a growth area, and one of the important points he mentioned was live services. Regarding live services, Mr. Yoshida said that he has learned from Bungie's management "to develop games interactively with users. He added, "I am aware that we are still lacking in this area, so I would like to learn from them.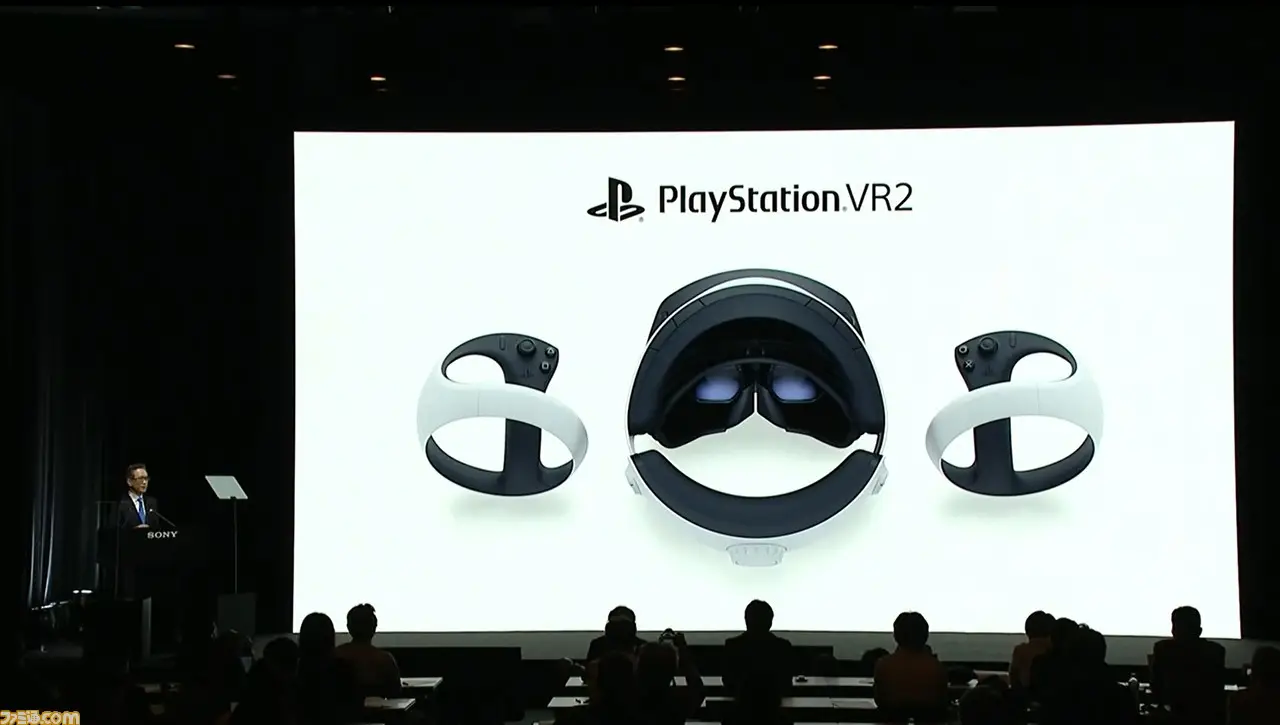 Hiroki Totoki, Representative Executive Officer, Executive Vice President and CFO of Sony Group, who was present during the Q&A session, said, "Regarding games, one of our strategies is to increase the capacity and quality of first-party development. If there is an opportunity, we may consider acquiring studios in the future.