Our serial about the easiest champion in League of Legends goes on, so it is time for the newest rank list!
Introduction
Mid lane, as the name says is the core of every game. It usually consists of one Ability powered carry champion, but with the shifts in the current meta it is no exception that a Attack Damage champion can be played in the mid lane. It's like the tides of League are returning to its original state where you had no jungler, you had two top laners and Ashe mid. But back then the game didn't suck.
So as you can understand, the mid lane is very important to every game since you are the prime damage dealer next to your adc. The resistance that enemy team builds and stacks will determine who will be the prime damage dealer in each game in particular. If the enemy team stacks Magic Resistance than it is only logical that your ADC will have an advantage due to the lack of Armour in your enemy team's defence, and if the enemy team decides to go for Armor that you know that your APC is the one to look out for.
Usually mages and mid laners tend to be one of the most complicated units in the whole game, due to the massive amounts of abilities and the dependency on those abilities. The ADC on the other hand doesn't even have to use his abilities since the biggest part of his damage is dealt by the autoattacks. Mid laners and Mages don't work like that since their attack damage is so weak and they rely on the power of their abilities, hence the name Ability power.
In the jungle of overcomplicated mid laners, new players can get confused and crushed by the veterans of League simply because they do not have the mechanics nor the understanding of the game on the level that some more experienced players do.
I am here to help, and to do that I have created a list of The easiest Mid Laners to play in League of Legends!
You may also like:
3. Lux
Lux had to find her way onto this list simply because of simplicity of her kit. There aren't too complicated calculations and she has really a lot of cc making her useful even in the hands of total noob. She can stun two targets at once and slow them after that, with burning them in one shot on top of that. Her mobility isn't that great but for this list that is a bonus since that is one thing less to worry about in terms of not missing an ability. The timing is crucial for Lux but you really have a lot of ground to work on since her kit is quite forgiving for a player. She has great kit to farm with so there is another bonus why new players should chose her.
Lux's abilities:
P – Illumination
INNATE: Lux's abilities apply a mark to enemies hit that lasts 6 seconds, which refreshes on subsequent hits.

Lux's basic attacks and Final Spark consume the mark to deal 20 − 190 (based on level) (+ 20% AP) bonus magic damage.
Q – Light Binding
ACTIVE: Lux shoots a sphere of light in the target direction that deals magic damage to the first two enemies hit and roots them for 2 seconds.
W – Prismatic Barrier
ACTIVE: Lux throws her wand in the target direction that homes back to her after reaching maximum range. Allied champions hit by the wand gain a shield for 2.5 seconds, which can stack up to 2 times, stacking with the previous shield and refreshing its duration.
Lux receives the shield upon throwing the wand and upon its return.
E – Lucent Singularity
ACTIVE: Lux sends a lucent singularity to the target location that lasts 5 seconds, granting sight of the area and slowing nearby enemies.

Lucent Singularity can be recast at any time while it is in flight or within the duration, and does so automatically after the duration.
RECAST: Lux detonates the singularity, dealing magic damage to enemies within. If Lucent Singularity was recast while in flight, it will detonate upon arrival.
The slow lingers for 1 second after leaving the area. Enemies hit by Lucent Singularity's detonation are also slowed by the same amount for 1 second.
R – Final Spark
ACTIVE: Lux fires a massive laser in a line in the target direction that deals magic damage to enemies hit and reveals them for 1.5 seconds, as well as granting sight of the surrounding area.
2. Annie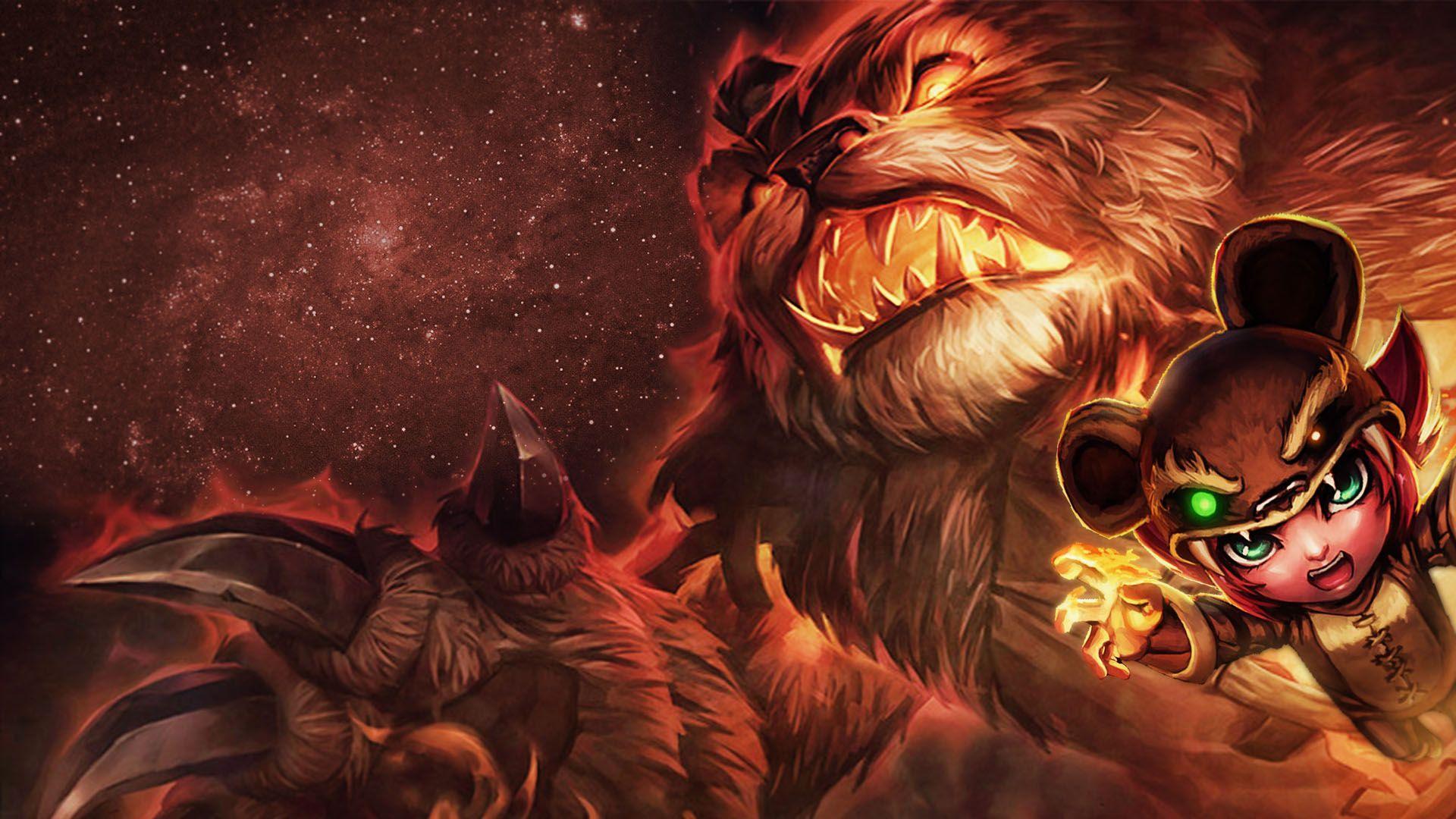 Annie is another champion that couldn't miss this list even if she wanted to. But she doesn't so it's okay. Really quite a simple champion that costs really low amount of gold, has a point click stun, simple click shield, and a pet that does all work for her even after she is dead. Combine all that and you get a menace that is abused in the lower elos by smurfs since Annie is an animal. She collects points on the abilities fired, mind you, you don't actually have to hit something to have your passive stack. Nope you can just click on your shield 5 times while you are going towards your lane and you have a stun locked and load. Her ultimate is just stupid. She summons a bear that goes berserk and chases you around the map. If Annie dies, due to some unfortunate circumstances, the bear goes into maniac mode, gets movement speed buff and will chase you down and kill you in 95% of cases.
Annie's abilities:
P – Pyromania
INNATE – PYROMANIA: Annie generates a stack of Pyromania whenever she casts an ability, stacking up to 4 times, at which she gains Energized.
ENERGIZED: When Annie succeeds in her next cast damaging ability, she consumes all Pyromania stacks and stuns enemies hit for 1.25 / 1.5 / 1.75 (based on level) seconds.
Annie loses Energized and all Pyromania stacks upon death.
Q – Disintegrate
ACTIVE: Annie hurls a fireball at the target enemy that upon arrival deals them magic damage.
If Disintegrate kills its target, half of the cooldown is reduced and the mana cost is refunded.
W – Incinerate
ACTIVE: Annie casts a cone of fire in the target direction, dealing magic damage to enemies hit.
E – Molten Shield
ACTIVE: Annie grants herself or the target allied champion and Tibbers a shield for 3 seconds and 20% − 50% (based on level) bonus movement speed that decays over 1.5 seconds.
While Molten Shield is active, enemies who basic attack the target are dealt magic damage.
R – Summon: Tibbers
ACTIVE: Annie summons Tibbers to the target location in a burst of flame, dealing magic damage to enemies near him. Summon: Tibbers can be recast at any time while Tibbers is alive.
Tibbers then remains on the field as a controllable pet for up to 45 seconds.
RECAST: Annie directs Tibbers to the target location.
Summon: Tibber's recast can be used while affected by cast-inhibiting crowd control. See Pets for more details about Tibbers.
Tibbers
Control type
R or ALT + RIGHT-CLICK
Target type
Minion
On-hit effects
Tibbers' attacks are mitigated by block, dodge, and blind, as well as stopped by Disarm.
Spell effects
Tibbers' basic attacks apply spell effects as pet damage but his flaming aura applies spell effects as persistent area damage.
Abilities Flame Aura Tibbers deals 5 / 7.5 / 10 (+ 3% AP) magic damage to all enemies within a 350 unit radius every 0.25 seconds. Recovery While out of combat for at least 5 seconds Tibbers heals himself for 6% maximum health per second and gains 250 bonus movement speed when moving towards Annie's location from further than 600 units away, decreased to 100 bonus movement speed from further than 150 units. Enrage Tibbers enrages for 3 seconds on summon and when Pyromania stuns an enemy champion. During this time, Tibbers becomes ghosted and gains 100% bonus movement speed, which decays over the duration. His base attack speed is also increased to 1.736 for his next 5 attacks while enraged, but decreasing with each attack until returning at his normal attack speed. There can be two formulas that can display Tibbers' attack speed with approximated values: 「 1.736 / 1.536 / 1.307 / 1.043 / 0.739 (based on Attacks Consumed) 」. Revenge If Annie dies while Tibbers is active, he instantly heals himself for 50% of his missing health, becomes enraged for 10 seconds, and will target Annie's killer. His health will rapidly decay over time and if Annie's killer is too far away, he'll target the nearest lowest-health enemy champion instead.
1. Heimerdinger
You might be surprised but hear me out. The most important thing during the game of League of Legends is to be ahead of your opponents. You do that by having more gold than them. There are a couple of ways to earn gold. You can either get kills, assists, objectives or you can farm by killing minions and earning gold. For many of those things you have to risk a lot so you can obtain your gold. You have to risk going in a fight, you might die. You have to risk by going for objectives that can be stolen by the enemy team, you can get killed by neutral monsters, or you can get killed while losing objective to enemy team. You also are in great risk by farming. You risk getting poked by the enemy champion, or to get ganked by the enemy team's jungler.
Heimerdinger solves this problem easily since he is the easiest champion to farm in League of Legends. He has his turrets, he can position them in the field and just poke the enemy champion from a safe distance.
His damage output is quite high, and his abilities are pretty straight forward apart from the ultimate but with a game or two you will master that since there isn't too much to understand in the first place. You can either summon a big canon, shoot some bullets or throw a big bouncy electric bowling bawl.
Combine all that and you can clearly see why Heimerdinger is The easiest mid champion to play in League of Legends!
Heimerdinger's abilities:
P – Hextech Affinity
INNATE: Heimerdinger gains 20% bonus movement speed while near an allied turret or a H-28G Evolution Turret or H-28Q Apex Turret deployed by him.
Q – H-28G Evolution Turret
PASSIVE: Heimerdinger periodically stocks a Turret Kit, up to a maximum of 3.
ACTIVE: Heimerdinger deploys a H-28G Evolution Turret at the target location, which lasts until destroyed.
Up to 3 H-28G Evolution Turrets can be deployed at a time, and deploying a fourth destroys the oldest one.
QR – H-28Q Apex Turret
UPGRADE!!! – ACTIVE: Heimerdinger deploys a H-28Q Apex Turret at the target location, which lasts for 8 seconds.
H-28Q Apex Turret scales with UPGRADE!!!'s rank.
W – Hextech Micro-Rockets
ACTIVE: Heimerdinger unleashes a wave of 5 rockets that converge to the target location and fan beyond it up to a maximum range, with each rocket dealing magic damage to the first enemy it hits. Every rocket hitting an enemy champion grants 20% beam charge to all turrets within 1000 range, up to a maximum of 100% beam charge when hitting 5 rockets on an enemy champion.
Enemies can be hit by multiple rockets, with each one beyond the first dealing reduced damage, and minions taking increased additional damage.
WR – Hextech Rocket Swarm
UPGRADE!!! – ACTIVE: Heimerdinger launches 4 waves of rockets in quick succession to the target location, each rocket dealing magic damage. Enemy champions and monsters are dealt reduced damage from rockets beyond the first, and further reduced beyond the fifth. Minions take increased damage.
Hextech Rocket Swarm scales with UPGRADE!!!'s rank.
E – CH-2 Electron Storm Grenade
ACTIVE: Heimerdinger hurls a grenade at the target location, detonating upon impact to deal magic damage to enemies within the area and slow them by 35% for 2 seconds. If the grenade hits an enemy champion, all turrets within 1000 range of the impact gain 100% beam charge.
Enemies hit at the center of the grenade's impact are also stunned for 1.5 seconds.
ER – CH-3X Lightning Grenade
UPGRADE!!! – ACTIVE: Heimerdinger hurls a massive grenade at the target location that bounces a fixed distance 3 times, exploding each time at twice the radius.
Enemy champions can only be damaged once per cast, but can be slowed and stunned multiple times if circumstances permit.
CH-3X Lightning Grenade scales with UPGRADE!!!'s rank.
CH-3X Lightning Grenade will cast at max range if cast beyond that.
R – UPGRADE!!!
ACTIVE: Heimerdinger empowers his next basic ability for an additional effect. These empowered abilities have the same cooldowns as their basic forms, deal modified damage, and do not have a mana cost.

UPGRADE!!! can be recast after 3 seconds, and does so automatically upon casting another ability.
RECAST: Heimerdinger ends UPGRADE!!! and puts it on a 3-second cooldown.
Related:
Conclusion
That's it for this rank list guys! Stay tuned since we have a lot more ground to cover.