The time has come to cover the easiest top lane champions to play in League of Legends!
Introduction
Top lane was always considered somewhat different than any other role in League of Legends. Players that go on top were really separated from the other lanes much more than the other lanes from each other. They rarely receive ganks from junglers, well that's the case if I am playing top, but you get what I'm saying.
Not everyone can play top lane. It takes a special kind of person to go and be alone almost the entire game. Even in the later stages of the game, Top laners usually just split push and end the game in that way.
To be more involved in the entire process of the game, especially in teamfights most of toplaners take Teleport as their summoner spell.
It is really important role, especially from the time when the bruiser META was the strongest META in game. And it lasted for a long time, and it will always stay somewhat relevant since the bruisers are still among the strongest champions in the game.
To learn to play top lane you need to expect that you will be the hero that your team needs, and not the hero that it deserves. Yeah I'm quoting Batman, deal with it. You will have to learn to play alone and to split while your team fights some of the most important fights in the game. Your farm needs to be on point and you have to watch for ganks, as well to help your team with objectives.
This is no easy task, but worry not. I have prepared a list of The Easiest Support Champions to play in League of Legends.
3. Dr. Mundo
Dr. Mundo was always one of the strongest top laners. But his difficulty , or the pure lack of it really makes me sick. Like physically ill. He doesn't have mana, he doesn't use energy. No, he uses his Hp. Yeah imagine if Riot had made his HP Regeneration so sick that he could basically just keep using his abilities and never die. Oh wait, they did. With a kit so simple that a blind person can play him, he definitely deserves a place in this list.
Dr. Mundo's abilities:
P – Goes Where He Pleases
INNATE: Dr. Mundo regenerates an additional「 1% − 2% (based on level) of his maximum health every 5 seconds. 」
PASSIVE: Periodically, Dr. Mundo gains immunity to the immobilizing effects of the next hostile spell to affect him. Upon resisting one, Dr. Mundo pays a health cost equal to 7% of his current health and propels a canister that lands 525 units in the general direction of its source, remaining on the ground for 7 seconds.
Dr. Mundo can move near the canister to consume it, healing himself for 8% of his maximum health and reducing the cooldown of Goes Where He Pleases by 15 seconds. Enemy champions can move near it to destroy it.
Goes Where He Pleases' cooldown resets upon respawning.
Q – Infected Bonesaw
ACTIVE: Dr. Mundo throws an infected bonesaw in the target direction that deals magic damage to the first enemy hit and slows them by 40% for 2 seconds.
Infected Bonesaw has a minimum damage threshold, and is capped against monsters.
If the bonesaw hits an enemy, Dr. Mundo heals for 50% of the health cost, increased to 100% against champions or monsters.
W – Heart Zapper
ACTIVE: Dr. Mundo charges up a defibrillator for up-to 4 seconds, dealing magic damage every 0.25 seconds to nearby enemies and storing a portion of the post-mitigation damage he takes as grey health on his health bar.
Heart Zapper can be recast after 1 second within the duration, and does so automatically after the duration.
RECAST: Dr. Mundo detonates the defibrillator, dealing magic damage to nearby enemies and heals for 50% of grey health, increased to 100% if at least one enemy champion or large monster is hit.
E – Blunt Force Trauma
PASSIVE: Dr. Mundo gains bonus attack damage, plus an additional amount based on his missing health, reaching maximum value at 70% missing health.
ACTIVE: Dr. Mundo's next basic attack within 4 seconds is empowered to have an uncancelable windup, gain 50 bonus range, and deal bonus physical damage, increased by 0% − 60% (based on missing health). If the target dies or is a small monster, they are sent flying away in a line, though not through terrain, causing all enemies they pass through to take 100% AD plus Blunt Force Trauma's minimum bonus damage.
Blunt Force Trauma as well as the triggering attack's damage is increased to 200% against minions and non-epic monsters.
Blunt Force Trauma resets Dr. Mundo's basic attack timer.
R – Maximum Dosage
ACTIVE: Dr. Mundo injects himself with chemicals to become enhanced for 10 seconds, gaining increased base health, bonus attack damage, bonus movement speed, and regenerating health.
2. Sett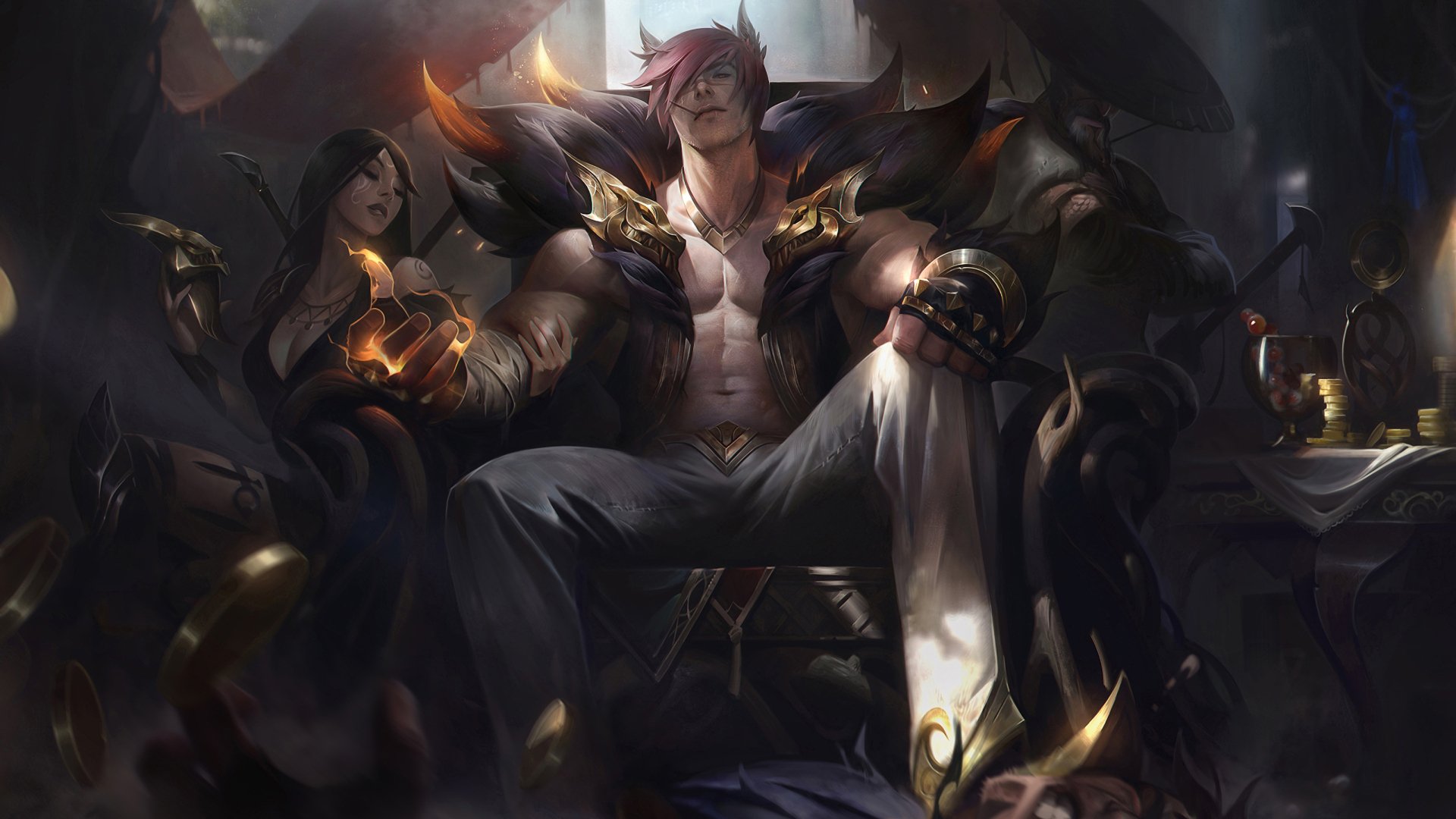 Sett is among those champions that is incredibly similar to Garen when you take everything into account. He has simple kit, he is incredibly strong, he uses no mana, he has mental Attack damage and Defensive stats, a shield and once he is fully fed there is no power in this world that can stop him. He uses his fists and every ability that he has can really be attributed as an enhancement to his basic attacks. Because of his simplicity he is widely used and abused both by lower ranked players and smurfs. Please note that he is so easy to play that if you used your feet and smashed all over the keyboard you would probably get a pentakill,
Sett's abilites:
P – Pit Grit
INNATE – HEAVY HANDS: Sett's basic attacks alternate between a Left Punch and a Right Punch on-attack. Sett begins attacking with a Left Punch, and will reset back to it after 2 seconds of not performing a Right Punch.
Sett's Right Punch gains 50 bonus range, unless Knuckle Down is active, attacks at 8 times the Left Punch's attack speed, and deals 5 − 90 (based on level) (+ 50% bonus AD) bonus physical damage.
INNATE – HEART OF THE HALF-BEAST: Sett regenerates an additional 「 0.25 / 0.5 / 1 / 2 (based on level) health per second for every 5% of his missing health. 」
Q – Knuckle Down
ACTIVE: Sett empowers his next two basic attacks within 5 seconds to gain 50 bonus range and deal bonus physical damage, capped at 400 total damage of each attack against monsters.(bug)
For 1.5 seconds, Sett also gains 30% bonus movement speed when he moves towards visible enemy champions within 2000 units.
Knuckle Down resets Sett's basic attack timer. The empowered attacks are guaranteed to be a Left Punch followed by a Right Punch, resetting Sett's current Pit Grit state (if applicable) and ignoring
W – Haymaker
PASSIVE: Sett stores 100% of post-mitigation damage taken as Grit on his resource bar, up to 50% of his maximum health. Each instance of stored Grit decays by 30% every second after 4 seconds.
ACTIVE: Sett immediately gains a shield equal to his expended Grit for 3 seconds, decaying after 0.75 seconds, and charges up a strike over the cast time.
After the cast time, he unleashes a blast in a cone in the target direction, dealing physical damage to enemies within the area, and true damage instead to all those in the center.
E – Facebreaker
ACTIVE: Sett pulls in enemies at his front and back in the target direction, dealing them physical damage and slowing them by 50% for 0.5 seconds.
If Facebreaker affects at least one enemy on each side, all enemies are stunned for 1 second upon landing.
Sett is unable to move or attack for 0.25 seconds after Facebreaker's cast time.
R – The Show Stopper
ACTIVE: Sett suppresses and reveals the target enemy champion and dashes with displacement immunity to their location, attaching them to himself on arrival and carrying them another 600 units in the same direction. Upon completing the dash, Sett slams the target into the ground, creating a massive shockwave at the impact area and quickly slides another 250 units beyond the impact location.
Enemies within the epicenter take physical damage, and those outside of the epicenter but within the impact area take physical damage that is reduced by up to 75% based on distance from it. All targets hit are slowed by 99% for 1 second.
The dash will end and create the impact prematurely upon encountering terrain that cannot be dashed through, whether by distance or invalid space.
Related:
1. Garen
The easiest top lane champion in League of Legends!
Yup, it's Garen. You have probably expected that. His kit is so strong, yet so simple that I even do not have a good comparison to tell you so you could understand it. If you leave the game, wait 10 minutes, and return you could still be the strongest person in the game in the next 10 minutes.
Garen has been relevant since his release within the lower and mid tiers of ranked games since the release of League of Legends. The main thing that separates Garen from the rest of the Top lane champions is his simple kit that even a small child can learn in one game. He has enormous damage for a tank, his abilities cost no mana and he has a mental health regeneration and defensive stats. Players, especially smurfs tend to abuse this and climb their way into the top tier ranked placements since almost no one in lower ranked games knows how to play against Garen, and once he is fed it is gg for everyone.
Garen's abilities:
P – Perseverance
INNATE: Garen regenerates「 1.5% − 10.1% (based on level) of his maximum health every 5 seconds. 」
Garen loses Perseverance for 8 seconds if he takes damage from epic monsters, enemy turrets, or enemy champions, or if he is hit by an enemy ability or affected by an enemy summoner spell, refreshing on subsequent damage or hits to Garen from them.
Q – Decisive Strike
ACTIVE: Garen cleanses himself of all slows and gains 35% bonus movement speed for a few seconds.
Additionally, Garen's next basic attack within 4.5 seconds has an uncancelable windup, lunges at the target, deals bonus physical damage, and silences the target for 1.5 seconds.
Decisive Strike resets Garen's basic attack timer.
W – Courage
PASSIVE: Garen gains 0.2 bonus armor and 0.2 bonus magic resistance every time he kills an enemy, up to a maximum of 30 bonus resistances at 150 unit kills.
After reaching maximum stacks, Garen gains 10% bonus armor and 10% bonus magic resistance.
ACTIVE: Garen reduces incoming damage by 30% for a few seconds. For the first 0.75 seconds, Garen additionally gains a shield and 60% tenacity.
E – Judgment
ACTIVE: Garen becomes ghosted and rapidly spins his sword around his body 7 times over 3 seconds, losing the ability to basic attack but gaining an aura that deals physical damage to nearby enemies periodically. The number of spins is increased by 1 for every 25% bonus attack speed from item stats, mythic passives, and growth (per level). Enemy champions hit 6 times have their armor reduced by 25% for 6 seconds. The 7th hit and every 6th hit thereafter refreshes the armor reduction's duration. Judgment can be recast after 1 second for its duration, and does so automatically after its duration ends.
The nearest enemy is dealt 25% bonus damage.
RECAST: Garen ends Judgment early, reducing its cooldown by its remaining duration.
Judgment can critically strike for (58% + 35%) bonus physical damage. Additionally, Judgment deals 150% damage against non-epic monsters.
R – Demacian Justice
ACTIVE: Garen calls upon the might of Demacia onto the target enemy champion, dealing them true damage as well as revealing them for 1 second at the start of the cast time.
You may also like:
Conclusion
That's it for this list but don't worry, there are many more coming!