Hello summoners, it's is time to cover the best picks for Top lane in Patch 12.8 The Patch brought some interesting changes but a lot of strong champions have stayed on top. These champions are META right now and there will be a lot of severe balance changes needed to remove them from the top of the board.
You may also like:
Yorick
I'm not gonna lie Yorick surprised me with being a Top pick for top lane in this patch. This champion has been completely forgotten since his rework. He was only picked then and really abused until he was nerfed to death. In my opinion he was much better champion before his rework but it is too late to be sad about it. He definitely isn't my cup of tea, but I guess if you like those sorts of champions he is a great pick and he is definitely META right now.
Yorick's abilities:
P – Shepherd of Souls
INNATE- FINAL SERVICE: Yorick raises a grave for every enemy champion, large monster and 12th / 6th / 2nd (based on level) non-champion enemy that dies near him, as well as for every enemy he kills with Last Rites. Only 4 graves can exist at the same time, with the furthest ones being replaced by the newest. Large monsters that die near Yorick always leave a grave.
Yorick can use Awakening and Mourning Mist's mark to raise a Mist Walker from each grave.
INNATE – THE HORDE: Only 4 Mist Walkers can be active on the battlefield at a time, with the closest ones being replaced by the newest.
Q – Last Rites
ACTIVE: Yorick curses his shovel, empowering his next basic attack within 5 seconds to have an uncancelable windup, gain 50 bonus range, deal bonus physical damage, and heal him for 12 − 82 (based on level), doubled to 24 − 164 (based on level) if he is below 50% maximum health.
If there are at least 3 graves nearby and Last Rites is active or on cooldown, Yorick is granted the ability to cast Awakening. Awakening will remain cast-able until there are no more graves nearby.
Last Rites resets Yorick's basic attack timer.
QP – Awakening
ACTIVE: Yorick exhumes a Mist Walker under his command from each nearby grave.
W – Dark Procession
ACTIVE: Yorick summons a wall of spirits around the target location which arises after 0.75 seconds, lasting for up to 4 seconds, acting as impassible terrain to enemies, and also granting sight inside the ring. Enemies within the wall's perimeter at the time of its summon are knocked aside over 0.25 seconds, though not through terrain; within 210 units, they are pulled inside, outside this radius they are pushed away.
Dark Procession can only be targeted by enemy champion basic attacks and turrets. The wall takes 1 damage per attack from champions and is destroyed instantly from turret attacks.
E – Mourning Mist
ACTIVE: Yorick hurls a globule of Black Mist that splashes across an off-centered area at the target location, dealing 15% of target's current health magic damage to all enemies within the area, down to a minimum threshold.
Enemy champions and monsters hit by the Black Mist are slowed by 30% for 2 seconds, and are marked for 4 seconds, during which they take 40% bonus damage from 8 attacks by Mist Walkers and continuously raise a Mist Walker from each nearby grave, up to a maximum of 4. Yorick, Mist Walkers and the The Maiden gain 20% bonus movement speed when moving towards nearby marked enemies. Marked champions are also revealed.
Mist Walkers will leap to nearby marked enemy champions and large monsters, dealing 100% of their AD upon arrival.
Mourning Mist will cast at max range if cast beyond that.
R – Eulogy of the Isles
ACTIVE: Yorick summons the Maiden of the Mist surrounded by a number of Mist Walkers at the target location, which remain on the battlefield until she or Yorick dies. Eulogy of the Isles can be recast once while The Maiden of the Mist is alive after 10 seconds of the activation.
RECAST: Yorick sets The Maiden of the Mist free, allowing her to push the nearest lane until she dies.
See Pets for more details about The Maiden of the Mist. Eulogy of the Isles will cast at max range if cast beyond that.
Malphite
Malphite is always one of the best pick whether or not he is META. His kit simply allows him to be a pretty strong pick no matter if you opt for Ap or Tank build. His synergy with champions like Yasuo makes him a pick that you can never miss with. He doesn't have too many counters but with a decent jungler those can be avoided too. And a cherry on top of it all is that he is super strong right now and definitely a META pick for Patch 12.8.
Malphite's abilities:
P – Granite Shield
INNATE- SHARD OF THE MONOLITH: Malphite gains increased percentage size equal to 8% of his total armor, capped at 35% increased size at 437.5 armor.
INNATE: Malphite shields himself for 10% of his maximum health. The shield lasts until it is broken, and refreshes after a few seconds of not taking damage.
Q – Seismic Shard
ACTIVE: Malphite sends a shard to the target enemy that deals magic damage and slows them for 3 seconds.
Malphite also gains bonus movement speed equal to the raw amount the target lost from the slow for the duration.
W – Thunderclap
PASSIVE: Malphite gains bonus armor, tripled while Granite Shield is active.
ACTIVE: Malphite's next basic attack within 6 seconds is empowered to gain 50 bonus range and deal bonus physical damage on-hit.
Additionally, Malphite's basic attacks on-hit for the next 5 seconds trigger a cone in the direction of the target that deals physical damage to enemies hit.
Thunderclap resets Malphite's basic attack timer.
E – Ground Slam
ACTIVE: Malphite slams the ground beneath him, dealing magic damage to nearby enemies and crippling them for 3 seconds.
R – Unstoppable Force
ACTIVE: Malphite dashes with displacement immunity to the target location. Upon arrival, he deals magic damage to nearby enemies and knocks them up for 1.5 seconds.
Garen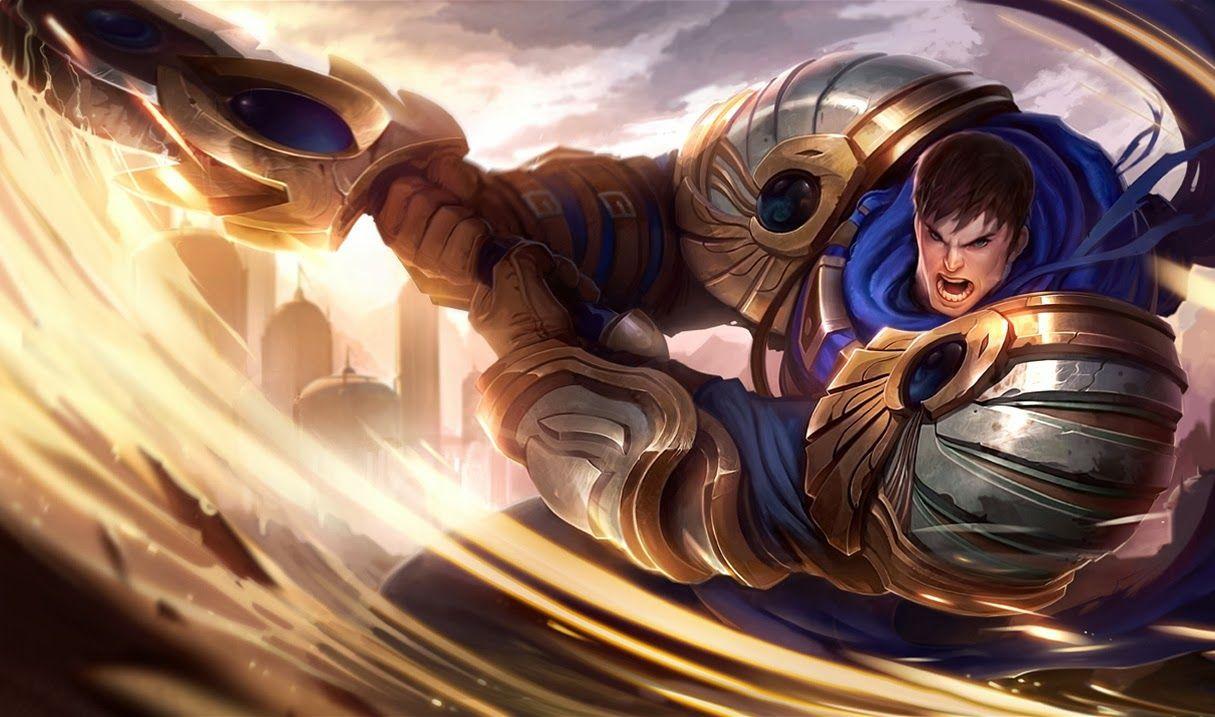 Garen has been relevant since his release within the lower and mid tiers of ranked games since the release of League of Legends. The main thing that separates Garen from the rest of the Top lane champions is his simple kit that even a small child can learn in one game. He has enormous damage for a tank, his abilities cost no mana and he has a mental health regeneration and defensive stats. Players, especially smurfs tend to abuse this and climb their way into the top tier ranked placements since almost no one in lower ranked games knows how to play against Garen, and once he is fed it is gg for everyone.
Garen's abilities:
P – Perseverance
INNATE: Garen regenerates「 1.5% − 10.1% (based on level) of his maximum health every 5 seconds. 」
Garen loses Perseverance for 8 seconds if he takes damage from epic monsters, enemy turrets, or enemy champions, or if he is hit by an enemy ability or affected by an enemy summoner spell, refreshing on subsequent damage or hits to Garen from them.
Q – Decisive Strike
ACTIVE: Garen cleanses himself of all slows and gains 35% bonus movement speed for a few seconds.
Additionally, Garen's next basic attack within 4.5 seconds has an uncancelable windup, lunges at the target, deals bonus physical damage, and silences the target for 1.5 seconds.
Decisive Strike resets Garen's basic attack timer.
W – Courage
PASSIVE: Garen gains 0.2 bonus armor and 0.2 bonus magic resistance every time he kills an enemy, up to a maximum of 30 bonus resistances at 150 unit kills.
After reaching maximum stacks, Garen gains 10% bonus armor and 10% bonus magic resistance.
ACTIVE: Garen reduces incoming damage by 30% for a few seconds. For the first 0.75 seconds, Garen additionally gains a shield and 60% tenacity.
E – Judgment
ACTIVE: Garen becomes ghosted and rapidly spins his sword around his body 7 times over 3 seconds, losing the ability to basic attack but gaining an aura that deals physical damage to nearby enemies periodically. The number of spins is increased by 1 for every 25% bonus attack speed from item stats, mythic passives, and growth (per level). Enemy champions hit 6 times have their armor reduced by 25% for 6 seconds. The 7th hit and every 6th hit thereafter refreshes the armor reduction's duration. Judgment can be recast after 1 second for its duration, and does so automatically after its duration ends.
The nearest enemy is dealt 25% bonus damage.
RECAST: Garen ends Judgment early, reducing its cooldown by its remaining duration.
Judgment can critically strike for (58% + 35%) bonus physical damage. Additionally, Judgment deals 150% damage against non-epic monsters.
R – Demacian Justice
ACTIVE: Garen calls upon the might of Demacia onto the target enemy champion, dealing them true damage as well as revealing them for 1 second at the start of the cast time.
Kayle
Kayle has received a total overhaul a couple of years ago and it has made her The best scaling champion in League of Legends. Her power troughout the game shifts from incredibly weak and fragile to one shot, full attack speed maniac with incredible damage. She is a champion that can carry you all the way to challenger if you learn to play her right since there aren't a lot of champions in game that can stop her once she starts scaling, and I can say for sure that there is no champion at all that can match her once she is on lvl. 16. To beat fully scaled and fully fed Kayle you will need some incredible team composition and cooperation with your teammates, and that is something that you can almost never see in lower tiers of the game.
Kayle's abilities:
P – Divine Ascent
INNATE: Kayle ascends through four forms that each grant additional bonuses. She ascends upon spending a skill point at levels 1, 6, 11, and 16.
LEVEL 1 – ZEALOUS: Kayle's basic attacks on-attack generate a stack of Zeal that lasts 5 seconds, which refreshes on subsequent hits and stacks up to 5 times. For each stack, she gains 6% (+ 1% per 100 AP) bonus attack speed, up to a maximum 30% (+ 5% per 100 AP). At max stacks, she becomes Exalted, gaining 8% bonus movement speed.
LEVEL 6 – ARISEN: Kayle becomes ranged and gains 350 bonus attack range for a total of 525.
LEVEL 11 – AFLAME: While Kayle is Exalted, her basic attacks on-attack also launch a wave of fire forward that deals 15 − 35 (based on Starfire Spellblade's Rank) (+ 10% bonus AD) (+ 25% AP) magic damage to all enemies it passes through. The wave is affected by critical strike modifiers.
LEVEL 16 – TRANSCENDENT: Kayle gains an additional 100 bonus attack range for a total of 625, and permanently gains the full effects of Zealous.
Q – Radiant Blast
ACTIVE: Kayle conjures a portal in front of her that faces the target direction. After a 0.264 seconds-second delay, a celestial sword launches forward from it.
The sword expands upon hitting an enemy. Targets struck are dealt magic damage, slowed for 2 seconds, and suffer 15% reduced armor and magic resistance for 4 seconds.
W – Celestial Blessing
ACTIVE: Kayle and the target allied champion are healed and gain bonus movement speed for 2 seconds.
If cast without a valid target, or self-cast, Celestial Blessing will automatically target the closest allied champion in range, prioritizing the one with the lowest health.
E – Starfire Spellblade
PASSIVE: Kayle deals bonus magic damage on-hit. The waves from Divine Ascent have base damage equal to this effect's base damage.
ACTIVE: Kayle kindles her blade, empowering her next basic attack within 6 seconds to have an uncancelable windup and deal additional bonus magic damage on-hit that is capped at 400 against monsters. If Kayle is not yet Arisen, this attack becomes ranged with 525 range.
AFLAME BONUS: The attack explodes upon the target, dealing its damage to surrounding enemies and applying on-hit effects. This is affected by critical strike modifiers.
Starfire Spellblade resets Kayle's basic attack timer.
R – Divine Judgment
ACTIVE: Kayle grants herself or the target allied champion invulnerability for a few seconds once the cast time begins, conjuring swords of fire and creating an area around them.
Upon completing the cast time, the swords rain down around the target, dealing magic damage to nearby enemies.
Divine Judgment will prioritize casting on allies over Kayle.
Conclusion
The best top laners in the game right now are here and we have got you covered. With our guides and tier lists the chances are that you will never be among the lower ranked players since you will know all of the META champions and how to abuse them properly!
Stay tuned, there is a lot more to cover, only on The Games Cabin!