Publisher Raw Fury today (May 10, 2022) released the international Nintendo Switch version of its Mecha RPG "Wolfstride," which was available until now on PC (Steam).
Wolfstride, developed by Brazilian company OTA IMON Studios, follows the story of Shade, a former criminal who dreams of escaping the slums of the futuristic city of Rain City. He and his fellow pilots "Knife Leopard" and mechanic "Duque" enter the Ultimate Mecha Tournament, a mecha-battle tournament, in an attempt to make a fortune.
Official Wolfstride Summary
Wolfstride is a role-playing game about three former partners-in-crime coming to a turning point in their lives. When they inherit a junkyard mecha called Cowboy, they reunite to enter the planet's most elite mecha competition: the Ultimate Golden God Tournament.
Each member of the team lends their unique experience as they prepare to outwit the best mecha opponents from around the world. Between dog-mechanic Duque, mecha pilot Knife Leopard, and jack-of-all-trades Dominic Shade, the core crew's got just about everything covered.
That is… until their simple mission to make money unfolds into a deep, slow-burning exploration of their complex lives, the dark choices of their past, and their inevitable fate.
The monochrome 2D graphics of "Wolfstride" are impressive, but the battle scenes are also rendered in a cel-animated style, and the adventure sequences, in which the player must complete missions such as fund-raising, are rendered as a side-scrolling adventure with dotted pictures. In the battles where robots fight one-on-one, katakana onomatopoeia such as "Dokokko" and "Bakyuun" are displayed on the game screen, making you feel as if you are reading a Japanese manga.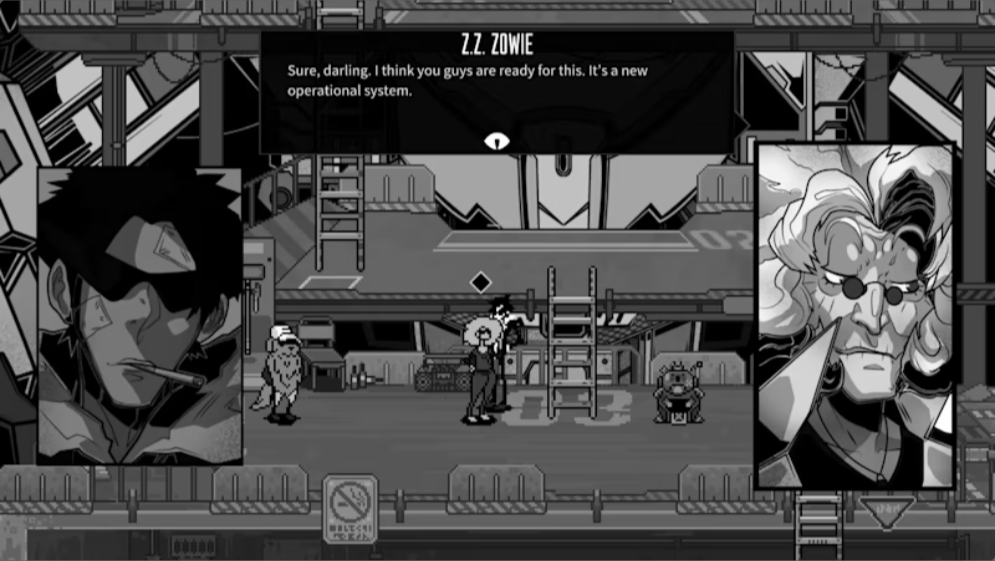 At the GDC 2022 press meeting held in March of this year, it was announced that a Nintendo Switch version of the game was under development, and that Japanese language support was also in the works. The Nintendo Store store page (link) released in conjunction with this announcement clearly states that the game will be supported in Japanese. The PC version of the game does not seem to support Japanese yet, but once the Japanese language is implemented, the game will be even more enjoyable for both Japanese speaking fans and worldwide fans on PC and Nintendo Switch.