In mid-April 2022, (Confirmed to be April 12, 2022) Square Enix will release patch 6.1 "A New Adventure" for the MMORPG "Final Fantasy XIV: Endwalker" (PC / PS5 / PS4 / Mac; hereinafter "FFXIV").
As the patch title suggests, the main storyline of this patch marks the beginning of a "new adventure." New contents include the alliance raid "Myths of the Realm, Part 1: Aglaia" and the new PvP "Crystalline Conflict". In addition, new systems such as the "Duty Support system" which allows players to party with NPCs to conquer dungeons, and data center (hereinafter referred to as "DC") travel will also be available. In addition, in order to expand the scale of operations, the number of Japanese DCs will be increased from three to four, and world regrouping will be implemented to distribute existing worlds.
4gamer interviewed Mr. Naoki Yoshida, the producer and director of the project ("Mr. Yoshida"), about patch 6.1, which will include numerous updates. To prevent the spread of the new coronavirus (COVID-19), the interview was conducted using Zoom. Original Interview link, Here.
Numerous awards received worldwide
A look back at the FFXIV Patch 6.0 "Endwalker".
4Gamer:
 Thank you very much for your time today. This interview is the first after the release of "Endwalker" (Patch 6.0). Since we are here, please tell us how you are feeling now that you have finished releasing patch 6.0.
Mr. Yoshida:
 I still have slightly mixed feelings. We had to postpone the official service launch of "Endwalker" for two weeks, but it was actually the first time in my career that we had to postpone the launch after announcing the release date, so I guess the damage was greater than I had expected…
4Gamer:
 I had so much fun with the Endwalker that I had personally forgotten all about it.
Mr. Yoshida:
 Thank you very much. But in addition to making you wait two weeks, we also had a tremendous server congestion. It was a physical problem caused by the shortage of semiconductors around the world, so there was nothing we could do about it. …… In any case, I regret the trouble and inconvenience we caused for the players to play the game. This regret has not disappeared from my mind at all, and I will keep it in my heart to do my best to prevent such a situation from happening again.
Producer and Director of "FFXIV"
Naoki Yoshida
4Gamer:
 What were the impressions of the players who actually played the game?
Mr. Yoshida:
 I am relieved to hear that many players' reactions have been "very positive". We were also able to deliver a different kind of catharsis as a game experience, and the development and management teams did a really good job in that regard, so I would like to commend them again for that. I am proud to say that "Endwalker" is one of the largest expansion packages we have ever delivered.
4Gamer:
 The Japanese translation of the lyrics to "Answers" was revised before the release of patch 6.0. The song has been around since the old "FFXIV" days, but when I read the lyrics, I thought it seemed relevant to Patch 6.0. I wonder if "Answers" has any influence on the creation of the story of the Hydaelyn and Zodiark story.
Mr. Yoshida:
 First of all, the lyrics were revised, probably because the old "FFXIV" team was too busy, but there were some parts where the translation was a little off, so we officially corrected the nuances that were not correct.
This song is a question from Venat, who is also Hydaelyn, and we decided that the adventurers would answer the question, so the influence on the story is quite significant. As lead story designer Ishikawa mentioned, I also like the lyrics of the song "Answers," which ask us to "listen," "feel," and finally, "think." I hope that the story of "FFXIV" will give players some food for thought or something to help them live in the real world, so although we didn't order this song from Uematsu, I think he got into it well as a symbolic song of "FFXIV".
4Gamer:
 When did you actually become aware of the idea of connecting "Answers" to the story?
Mr. Yoshida:
 I used "Answers" when I ended the old "FFXIV" with "End of an Era," so in that sense, my commitment to "Answers" was strong to begin with. So it wasn't a question of when, but rather when I decided to complete the saga of Hydaelyn and Zodiark, which had been continued from the old "FFXIV," I felt that I couldn't leave out this song.
4Gamer:
 The voice acting was excellent in patch 6.0. Is the casting of the voice actors decided by Mr. Yoshida?
Mr. Yoshida:
 No, it is not me. If I were writing the story, I would be the one to decide, but I want the person who wrote the scenario to give it the voice they think best. I think that feeling is important, so in the case of "FFXIV," I will not be present during the recording of the voice actors.
4Gamer:
 I take it that the reason for not being present is not because Mr. Yoshida is busy, or that he is leaving it to a trusted staff member.
Mr. Yoshida:
 Yes, I guess you could say that is my policy (laughs). If I were to be present, my personality would cause me to give acting guidance based on the nuances I think are appropriate, and that could change the feelings of the scenario writer. But I'm a producer and director, so if I'm there, the voice actors and sound director will see my reaction. Even if the scenario writer says this is OK, other people will say, "How about you, Yoshida-san? The responsibility of the scenario writer is to deliver the story they has created to the players, so I am very particular about the direction I give. That is why I have not been present at a single recording session in the past 10 years.
4Gamer:
 Not once? That is a bit surprising.
Mr. Yoshida:
 Of course, there are times when we implement all the recorded voices, check them through and make nuance adjustments, and then say, "Hmmm, ……, maybe it would have been better to do something different" ……. e. However, what I feel is probably felt by the scenario writer as well, and I believe that this is something that should be experienced because it will be useful for the next step. If I direct everything ahead of time, even if the scenario writer thinks, "The nuance here is a little different," I can be held responsible for it.
 When I was younger, I had the experience of doing voice direction for a game I created myself, so I have a strong feeling that the scenario writer should do the voice-over work himself.
4Gamer:.
 So, Mr. Yoshida, you have almost nothing to do with the casting of the voice actors?
Mr. Yoshida:
When we ask a voice actor to perform, we first ask the scenario writer to come up with an image of the voice. If there is someone we are absolutely certain will be the right person, we often ask that person, but if we have an idea of the kind of voice we want, we choose from a sample of several voice actors. When I finally look at the list, I think to myself, "There are all these big names! That's a lot of money, so re-consider!" (laughs). Our Third Development Division is very fussy about budgets. …… On the contrary, as long as it is within the budget promised in advance, we accept it without saying a word. I don't think we have been going over budget recently.
4Gamer:
 So that's why there are budget restrictions in "FFXIV."
Mr. Yoshida:
 "FFXIV" is the reason for this. We cannot just keep increasing the size of the budget because we have a lot of players and are making a lot of money. Of course, we are raising the budget as much as we should, but we absolutely cannot go over the ceiling. But if the community size gradually decreases in the future and we enter a stable operation phase, we may not be able to spend the same amount of money as we are spending now. It would be better to avoid such a future, of course, but if that happens in the future, we definitely don't want to see a situation where we have to ask someone else to take over the role because we can no longer afford to pay the voice actors who are paid extremely high fees for their performances.
4Gamer:
 I feel the casting was done like this because it is a live service title. I was surprised that they chose the voice actors with that much thought.
Mr. Yoshida:
 Because we want to continue development and operation for as long as a year or as long as a day, we must not become paralyzed by this feeling. We have an external person who has been directing and making final casting choices since the old "FFXIV," and we have an overwhelming sense of trust with him, and we also share a common sense of cost. He is the one who looks at our requests, knows our budget, and says, "How about this person?" We reach a final agreement on the casting.
 For example, Kana Ichinose, who played the role of Lean, we said, "This person is highly recommended. " We received suggestions like this. We were also very particular about the casting of other important NPCs.
 We also wanted to ask as many voice actors as possible who have played "FFXIV" and who were willing to appear in the game. I think that those who have a strong emotional attachment to the game will be able to continue to give good performances for a long time.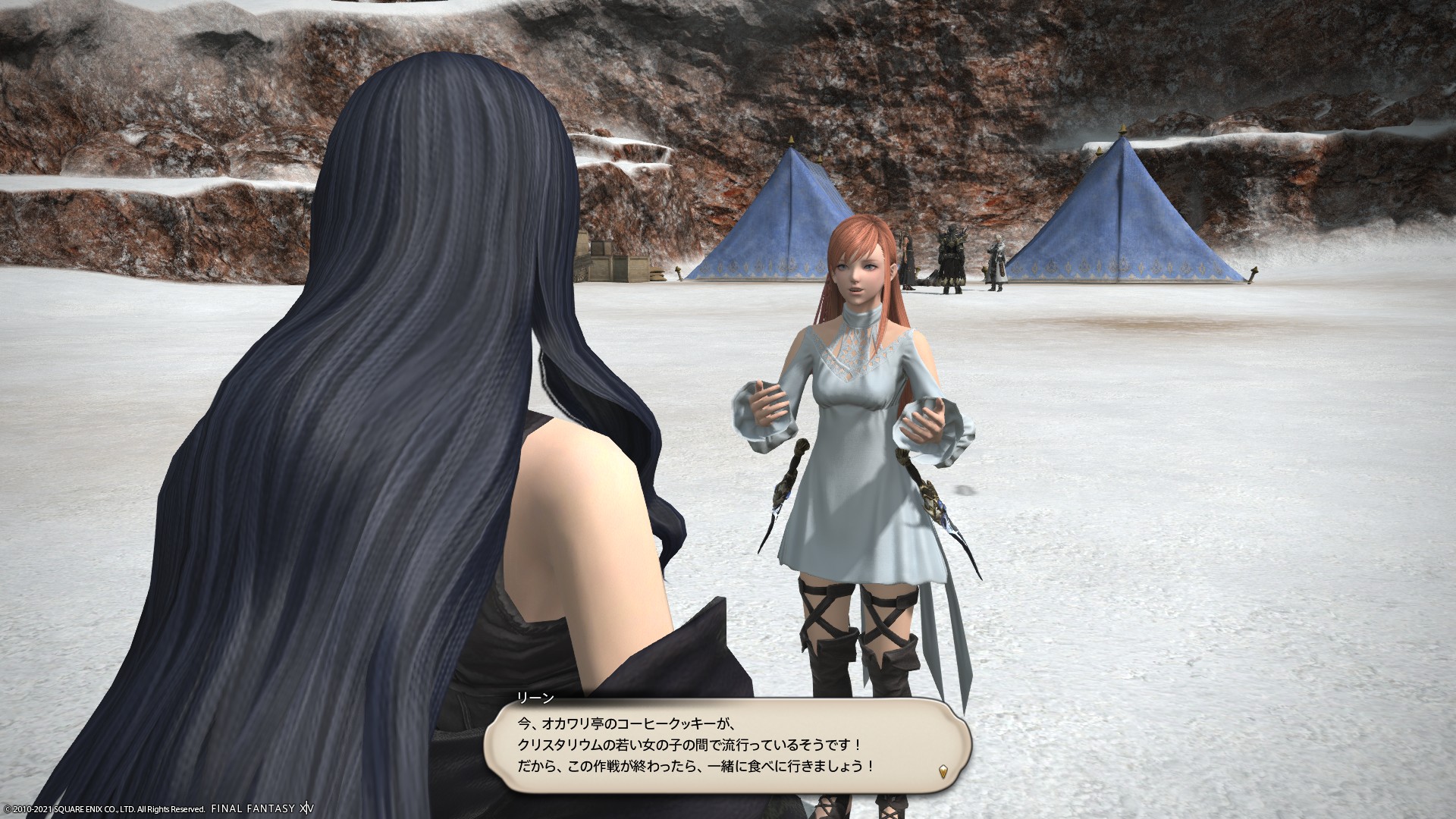 4Gamer:
 The one that comes to mind is Sadayuki Matsuoka, who plays Hermes. I heard that he had played the game quite a bit and was eager to be a part of it.
Mr. Yoshida:
 Matsuoka-san is an avid FFXIV player, and in a video of one of his show appearances he said, "I want to be on the game! (Laughs.) So we made an unusual proposal. We are very grateful that we did not have to explain everything about "FFXIV" from start to end, and he said, "I know, I know, it's OK." The people who cast the voice actors also keep an eye on who was playing "FFXIV" in the voice actor industry, and they often make their decisions based on that.
4Gamer:
 On a different note, I believe that most of the development for 6.0 was done through full remote work. Did you encounter any difficulties?
Mr. Yoshida:
 About 80% of the staff worked from home, but there were cases in which problems that could have been solved if they had been on the same floor came up later.
4Gamer:
 Can you give me an example of these problems?
Mr. Yoshida:
 When we work on the same floor, we can sense each other's mood. However, it is difficult to sense this when remotely working. For example, staff members who are working with a high level of concentration can be felt when they are in the same space. However, when working from home, you cannot sense this. For example, you may interrupt the work by chatting to the staff without care, or conversely, you may take too much time to talk to the staff because you cannot see them, or in the worst case, you may make a mistake by omitting detailed confirmation.
4Gamer:
 Ah, it's that "is it okay if I talk to this person now?"
Mr. Yoshida:
 After going through the artwork, map modeling, boss characters, environment settings, battle programs, etc. that we were each working on, when we actually connected them all together, we found that they were not consistent with the storyline and that they were all slightly different from each other, in some cases large and some small. This was a discrepancy that we had been able to eliminate with a short period of mutual checking, as if we were working in the same way in the office and I said, "Come in here and give me your impressions." Until now, this level of discrepancy has rarely occurred. There was a sense of awkwardness that came from a sense of discretion, and there was also a lack of restraint that resulted in constant chats and other messages, causing the leadership team to scream, "We can't work!" There were a lot of challenges in that area.
4Gamer:
Square Enix has introduced remote work throughout the company, but will development be centered on remote work in the future?
Mr. Yoshida:
 We have gone to a lot of trouble to reform the way we work, and that is basically what we will do in the future. However, we have a system that allows, for example, a division to say, "Okay, this is an important time, so let's all come in to work for three weeks and pack everything at once." Since it is a company organization, it works in the form of "prioritizing the convenience of each division and project." However, in principle, we confirm the will of the workers and allow them to decide whether they want to work from the office or from home, with flexibility.
FFXIV Patch 6.1 begins a new story.
The curtain opens with a tea party ……?
4Gamer:
 Now that we've gotten into Patch 6.0, I'd like to move the topic to Patch 6.1. First of all, I have no idea what the main storyline will be next, but what is the first thing you will do in patch 6.1?
Mr. Yoshida:
 It is …… to have a tea party with Tataru in a gutted stone house (laughs).
4Gamer:
 That's the scene from the recently released screenshot. Beyond that, …….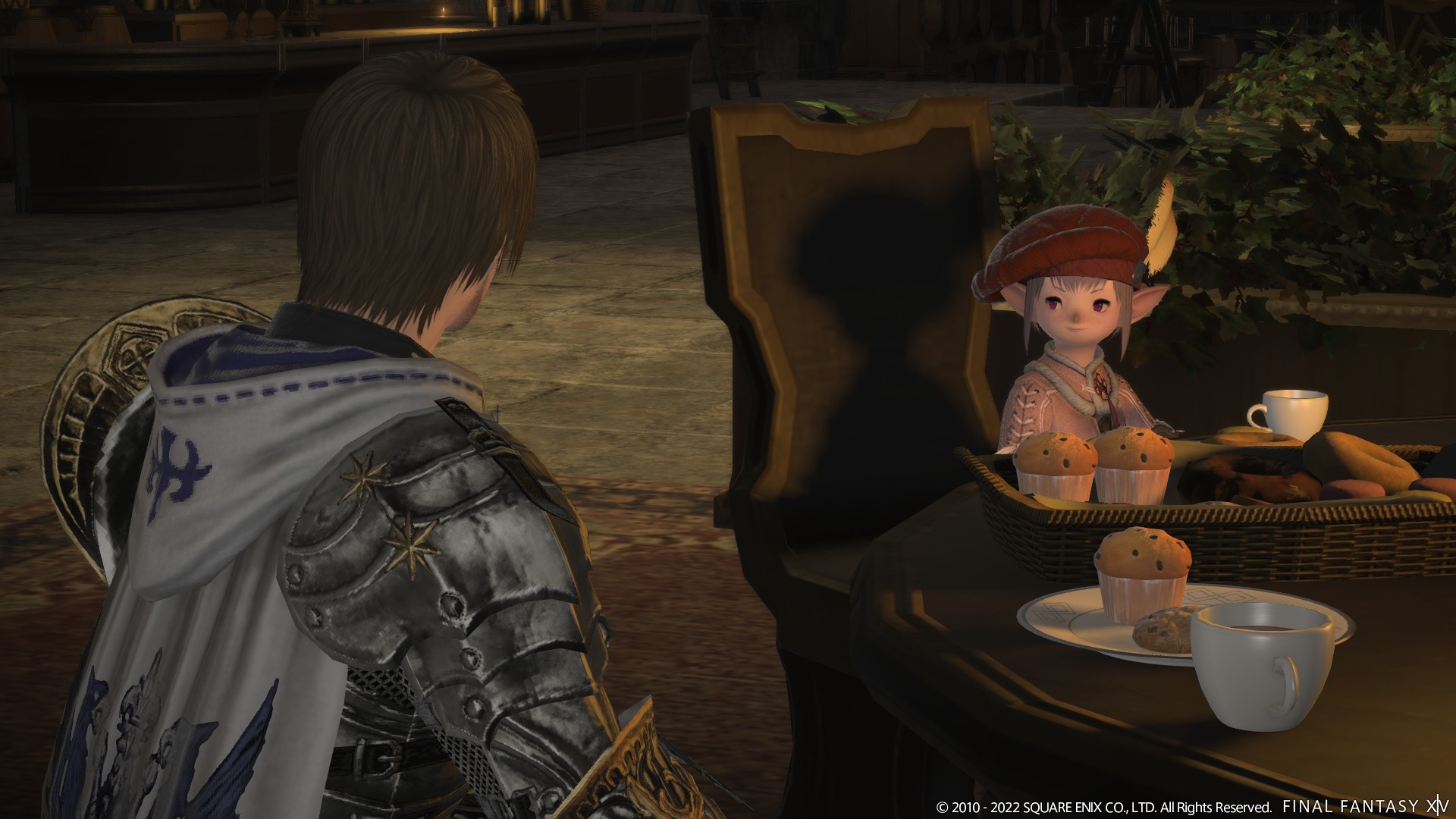 Mr. Yoshida: .
 I can't say. but we can talk about it together step by step.
4Gamer:
 Maybe Tataru can help you get a job?
Mr. Yoshida:
 No, you should just think of it as, "Now that I've settled down, I'd like to take my time and see the world."
4Gamer:
 Do you envision the story that will be told between patches 6.1 and 6.5 as a bit of a slow build-up period to the next storyline for patch 7.0?
Mr. Yoshida:
 I don't envision it as a leisurely process. We have a big story to tell in the Patch 6.x series, and we plan to bring it to a conclusion. If you saw the end of patch 6.1, I think you will feel, "Oh, so this is how it's going to go." …… We have a lot of experience in foreshadowing where the next expansion package will go and what the story will be and how the characters will appear, so we will do that again.
4Gamer:
 I was really impressed with the story of patch 6.0, but this is largely due to the fact that there has been about 10 years of accumulation since the old "FFXIV". Can we expect the same level of excitement and surprise in the future story?
Mr. Yoshida:
 It will probably take another eight years to reach that level (laughs).
4Gamer:
 It will be, won't it? That's a long time (laughs).
Mr. Yoshida:
 However, the "New Adventure" story that begins in Patch 6.1 builds on the peace, relationships, and feelings of each character that players have created through the story so far. The characters will continue to be connected to each other, as will the desire to delve deeper into their characters, to be surprised again with the characters they have traveled with for so long, and to make new discoveries.
 In that sense, it is completely different from the "New Eorzea," where everything was just starting to build up. That being said, it is hard to say, "The impact and excitement of Patch 6.0 will come with every expansion."
 But I still want every expansion package to be one big story, one that makes you cry and laugh! We are always working with that kind of enthusiasm. On the other hand, the catharsis of having various mysteries unraveled, of having one's knees knocked into knots, of having one's piled-up feelings released, is something that can only be achieved by building up the work. All we can do is to continue to hit your emotions with the most powerful scenarios and game experiences. So we hope that you, the players, will continue to join us as we reach new heights.
4Gamer:
 I am very much looking forward to it.
 By the way, patch 6.0 has brought up some new place names, is it safe to assume that we will be able to visit those places in the future?
Mr. Yoshida:
 One character made you very agitated about it, isn't it? (laughs). In FFXIV, we've been focused on the feasibility of most of the places that were only mentioned by name in the scenario, such as Thavnair Island, Old Sharlayan, Ishgard, etc., and that we would eventually be able to visit. We haven't been able to go to Southern Meracydia yet, but the "FFXIV" team is very persistent, so now that we've said it, you can expect it to some extent. ……
4Gamer:
 I'll keep my fingers crossed.
Mr. Yoshida:
 But of course, don't expect to get everything done in about three patches!
4Gamer:
 I am waiting patiently (laughs).
 By the way, the free trial was reopened the other day, and I wonder if the number of new accounts is still growing.
Mr. Yoshida:
 We are in a state of steady growth. As we move toward patch 6.1, we expect to see even greater activity as we begin various promotional and PR activities.
4Gamer:
 The crowds seem to have calmed down considerably, but do you have any plans to restore the three separate instance areas and automatic logout specifications that were introduced in patch 6.1?
Mr. Yoshida:
 We have been talking about getting back to that number, and we will try to lift it as soon as possible after we see the congestion in the early days of the Patch 6.1 release.
 By the way, it is not so much that the congestion has calmed down, but rather that everyone's play style has returned to normal. The long hours of daily logins have calmed down, and there is now a rotation of people logging in and logging out, with some people logging in once every two days and others logging in for an hour and a half at a time, etc. Although the server capacity has not increased, the amount of time that players log in is concentrated. The number of people who have been able to use the system has been reduced.
New Alliance Raid in FFXIV is now available!
Mystery left in Eorzea to be unraveled
4Gamer:
 The new alliance raid, "Myths of the Realm: Aglaia" is the most original alliance raid in a long time. What are some of the highlights?
Mr. Yoshida:
 In the "Endwalker" The Hydaelyn and Zodiark story was answered in a big way, but the core of the story is the question of the "Twelve Gods of Eorzea," which still remains.
 In the Seventh Disaster, Luizo seems to have invoked the Twelve Gods of Eorzea after using the power of prayer to seal Bahamut, and he also invoked the power of Althyk, the god of time, to send the Warriors of Light into the future, but was this really the power of the Twelve Gods? These are mysteries that have not been picked up in patch 6.0 and still remain in the world, so we will cleanly solve these mysteries. For those who like the world setting and the story, this will be one of the great pleasures.
4Gamer:
 How about the difficulty of the battles? Recently, it seems that the Alliance Raid has been a bit of a twisted gimmick.
Mr. Yoshida:
 Since this is the first round of battles, the content of the battles may not be extremely challenging. Think of it as a new type of game that can be enjoyed by 24 people. Of course, there will be a variety of new gimmicks, so you may find yourself saying, "Woooooah!!!!" I think it will be (laughs). Please look forward to it.
4Gamer:
 In "FFXIV," there are "Primals" and so on. Are they also gods that existed in this world in the past together with Twelve Gods of Eorzea?
Mr. Yoshida:
 I can't go into details because it would be a spoiler, but you should be able to understand the meaning of their number and so on.
4Gamer:
 On a slightly different note, I feel that the nerfs have made the previous alliance raids a bit more difficult. Do you have any plans to adjust this?
Mr. Yoshida:
 We will check everything before implementing the nerfs, and if there are areas where we think the clear time may have increased a little, we will do a full check during 6.0 development, but we may make pinpoint adjustments. If you have any points of concern, we would appreciate your feedback. We are adjusting the rewards for the Alliance Raid according to the difficulty and clear time, so there are no plans to adjust the rewards at this time.
The new PvP "Crystalline Conflict" is an
Easy to play content with a play time of only 5 minutes.
4Gamer:
 FFXIV Patch 6.1 will add a new PvP "Crystalline Conflict". First of all, please tell us about the rules.
Mr. Yoshida:
 This is a PvP content in which players are divided into two teams of five against five to compete. Instead of competing against the number of times you kill or damage your opponent, you win by moving the crystal pedestal in the center of the map and pushing it into your opponent's position. We have revised the actions of all jobs in PvP, and all jobs now have a means of recovery. This eliminates role restrictions when matching and allows any job to participate. Until now, the healer role has been heavily burdened, but our goal is to make it possible to play both casually and aggressively.
 We also set the duration of the match to 5 minutes, and if the game is not over, Sudden Death will be played to determine the winner in a short period of time.
4Gamer:
 In the screenshots released, there appeared to be several locations. Is there more than one map?
Mr. Yoshida:
 From the beginning, three maps will be implemented. A simple map with no map gimmicks. Then there is a map where lava falls from the sky in a volcanic zone and explodes along a pathway. Then there is a map where a storm is coming and you are fighting against it while being swept up by the wind. The map you fight on is automatically switched every few minutes, and the loop continues.
4Gamer:
 It seems that a season system will be introduced, but what kind of rewards will be offered?
Mr. Yoshida:
 The season system is used to compete for rankings in the new PvP "Crystalline Conflict". In addition to this, we have created a new concept called "series," which will be the goal of the entire PvP content. It is difficult to explain now because there is no diagram, but I will explain these mechanisms with illustrations in the next Producer Letter Live (hereafter, PLL).
4Gamer:
 "Feast" is now closed, what will happen to it in the future?
Mr. Yoshida:
We are undecided at this time. Since we announced that we were shutting down the game, we have received some requests to keep Feast as Feast, but we have now adjusted all the PvP actions, so we are afraid that the feedback will be cut, and most importantly, we are afraid that the matchmaking will be divided! I would be grateful if those who are immersed in PvP would be able to open up to the Crystalline Conflict once.
 Once these things start to work and we feel that Feast is still a viable variation of PvP, there is a possibility of restarting it, but for now, our first goal is to increase the number of players who participate in PvP.
More support for solo play
We want you to play the story of FFXIV without hesitation.
4Gamer:
 At the recent 68th PLL, you announced support for solo play; what is the purpose of enhancing solo play despite being an MMORPG?
Mr. Yoshida:
 I want people to play the story of "FFXIV," which has a very good reputation as one of the best in the "Final Fantasy" series, up to patch 6.0 without any hesitation. That's all I can say.
 Recently, I've often heard people say that they are concerned that the MMORPG feel will be lost, but "FFXIV" is not just a game with a main storyline, and if you want to play the various content after the main storyline is over, matching is still a necessity. Our main goal is to cater to those who are put off by the mere mention of "MMORPG," or those who would like to try just the scenarios if they can play them solo.
 However, the hurdle to playing MMORPG will be lowered dramatically once you like the characters, immerse yourself in the story, and feel that you want to know more about the world and enjoy it. Of course, there will also be people who experience multiplayer games on a whim as they follow the storyline, and my real goal is to increase the base population in this way, and to show them that MMORPGs and online multiplayer are fun and not scary.
4Gamer:
 But some people maybe concerned about players who have been playing solo before suddenly coming to a matching session.
Mr. Yoshida:
 I understand that you are worried that someone with low skills might suddenly arrive, but it is natural for anyone to have trouble understanding things at first, and it is not possible to skip instanced dungeons or primal battles. Rather, I believe that by playing the instanced dungeons at your own pace and with NPCs, you will accumulate a certain amount of knowledge about how to handle jobs. In the past, even if one player did not understand the skill rotation at all in a 4-player instanced dungeon, the other 3 players could manage to do their best, but I think there is a possibility that such opportunities will be reduced.
4Gamer:
 It is true that, at present, skilled players tend to be ahead of their peers, and beginners tend to simply follow them.
Mr. Yoshida:
 As I mentioned earlier, if you go to a dungeon using the contents supporter function, you can practice calmly and without hesitation, and you can proceed at your own pace. If you are a DPS, it will be easier to try using ranged attacks to speed up the attack, and so on, through trial and error. Therefore, I rather think that beginners will be able to improve their player skills more by enhancing their solo play.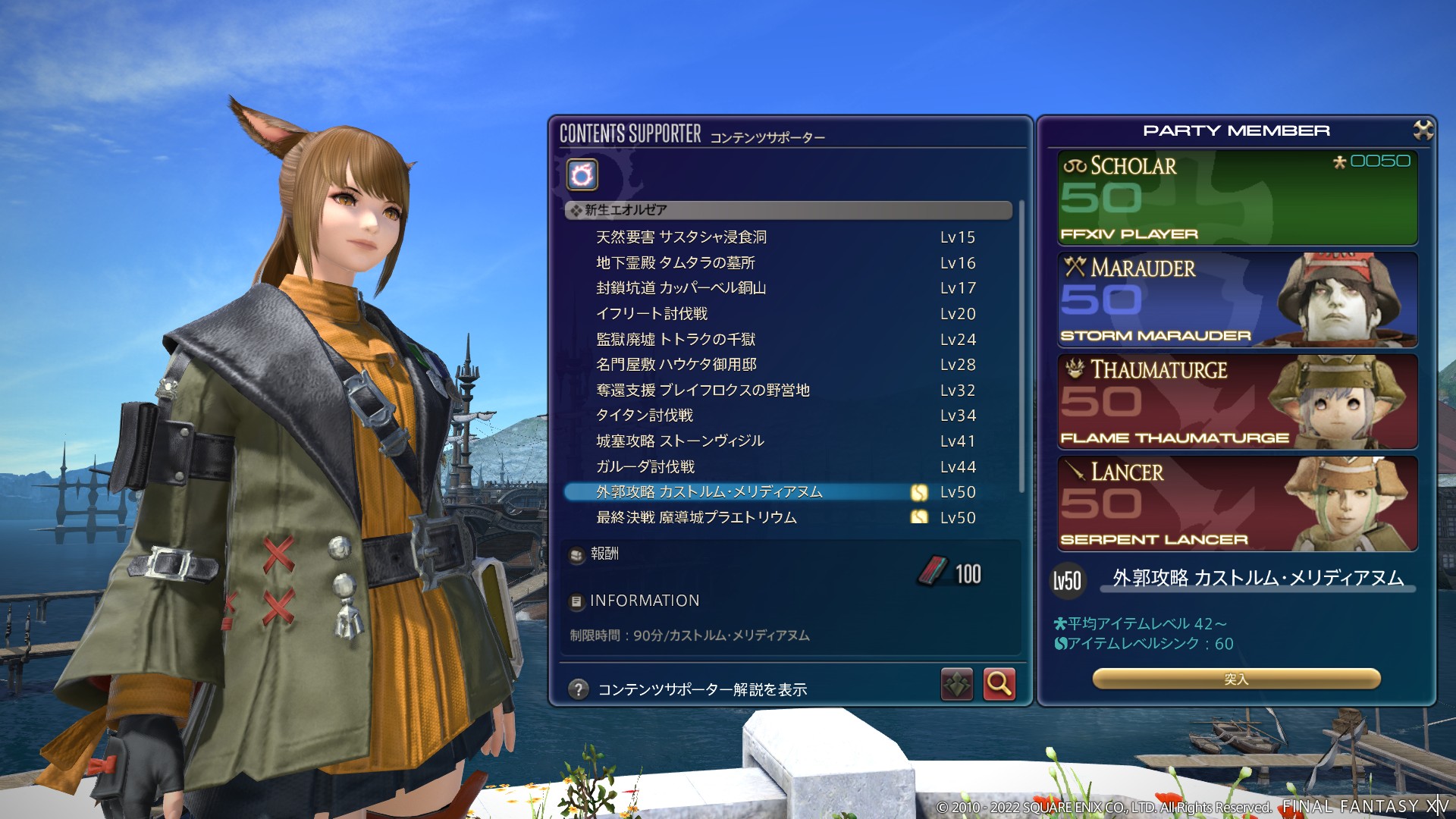 4Gamer:
 It is precisely because you cannot rely on anyone else that you can hone your own skills as a player.
Mr. Yoshida.
 Yes. And as you practice solo play and gain confidence in your own play, you can broaden the scope of your play, not only with the 8-player scenario content, but also with "Let's try a few challenges" or "Let's try a raid we haven't tried before".
4Gamer:
 That's what you were talking about earlier, enhancing solo play in order to tie in with MMORPG play.
Mr. Yoshida:
Yes. My goal is an RPG that can be played by one person or everyone. It's fun to play alone, but I want to make it more interesting if everyone plays, so I'm not aiming to make all of "FFXIV" playable by one person.
4Gamer:
 The "Crystalline Conflict" series of alliance raids is essential content to advance the main storyline, but will it eventually be possible to do it solo?
Mr. Yoshida:
 As we mentioned in the PLL, we will prioritize 4-player instanced dungeons in the main storyline and 4-player defeats/demolitions in the Patch 6.x series, and 8-player defeats/demolitions in Patch 7.0. We will respond to the 8-player defeats and battles as needed, although it will be after patch 7.0. In other words, we will be taking a long term perspective and working on a variety of things. In the meantime, there is a possibility that the Crystalline Conflict series will be handled in a completely different way, but even if that is the case, it will be after 7.0.
4Gamer:
 By the way, The Minstrel's Ballad: Ultima's Bane will be a 4-player content, but the Unreal trial, which will appear in Patch 6.1, is an 8-player content. Will there be a discrepancy between the two in the future?
Mr. Yoshida:
 It is true that Ultima's bane in the main storyline will be for four players, but this does not mean that the The Weapon's Refrain (Ultimate) will disappear. If you want to, you can attempt it anytime.
 We do not plan to make the Moggle Mog and Ravana in the main storyline for 4 players; we will keep them for 8 players and will eventually support content supporters.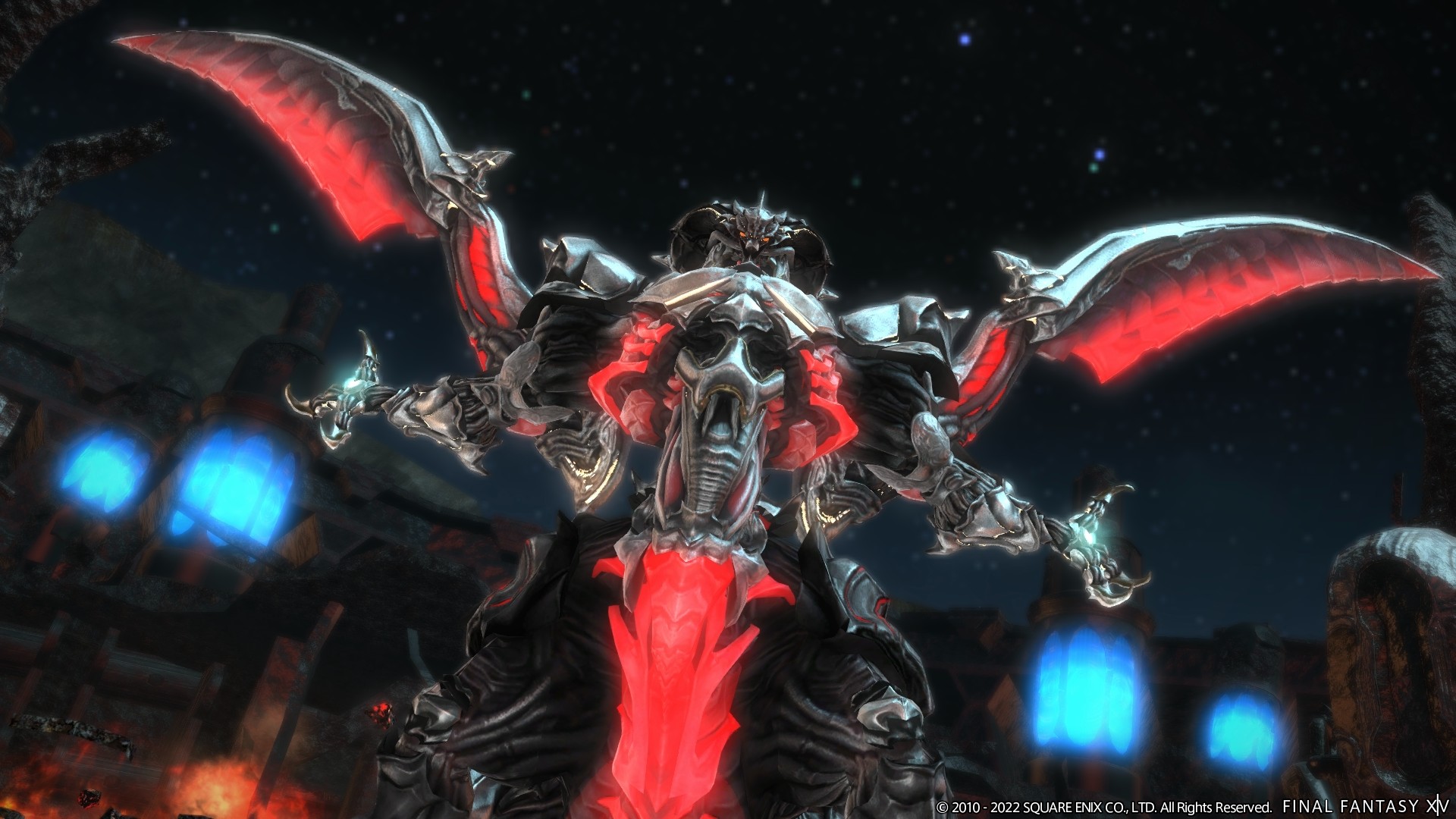 FFXIV DC travel usually takes anywhere from tens of seconds to minutes!
To be able to play with many people without worrying about DC barriers.
4Gamer:
 At the 69th PLL, the allocation of world regroups was also announced. What criteria were used to select the worlds assigned to the new MeteoDC?
Mr. Yoshida:
 Basically, we looked at the log-in times and log-in tendencies of the people who make the world their home, as well as the number of players who play end content and other high-difficulty content, to avoid extreme bias.
 For example, we were very careful not to make it difficult to match players in the morning because only worlds with a large number of late-night players would gather in Meteor. There are a certain number of raiders and casual players, so we have tried to keep a balance in various aspects.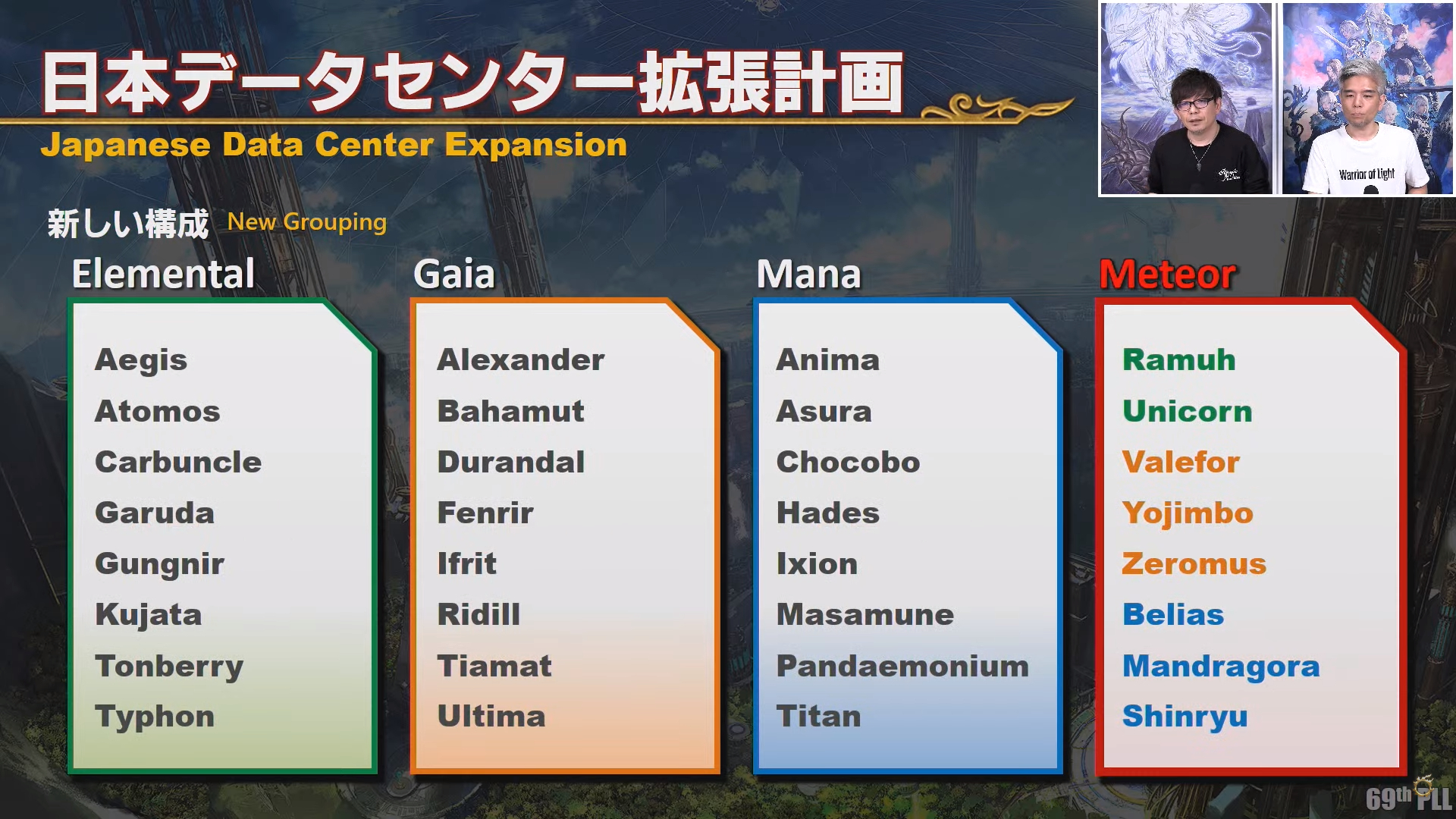 4Gamer:
 DC travel, which allows users to move between DCs in the game, will also be implemented, but in some cases the travel will take up to 30 minutes.
Mr. Yoshida:
 Sorry. I was too cautious in my statement, and DC Travel can be used in a matter of tens of seconds to two or three minutes for normal use.
4Gamer:
 What, three minutes?
Mr. Yoshida:
 Yes, however, if you remember the time immediately after the implementation of world-to-world teleportation, and the arrival of the new patch, logins were crowded, and even world-to-world teleports had a wait time of 10 minutes or more because everyone was trying it out. So, we wanted to inform you that it may take up to 30 minutes to move from one place to another in such a case, taking into account the congestion after such a trial or immediately after the patch.
 Also, in this system, for example, when you want to go from Mana to Gaia to play, you are asked which world in Gaia you are going to, and if there is a big user event in that world and that world is extremely crowded, of course there will be a wait, so it may take 5 to 7 minutes to get there.
4Gamer:
 So it's still at the 5-7 minute level.
Mr. Yoshida:
 When DC travel is implemented, there will no doubt be a significant number of people who will try it out, and we expect to see perhaps the largest travel congestion. At that time, they will be able to say, "I heard it was so comfortable, but it takes so much time to get around!" In a bad sense, we have taken precautions so that this will not happen. As a result, I am very sorry that I gave the misunderstanding that it takes a lot of time and is not something that is easy to do.
 Also, if you have an appointment with a friend in another DC and you are planning to move just before the appointment, you may not be able to keep the appointment if it happens to fall in the timing of the "login war," and you may not be able to keep the appointment if you are not sure of the time and date of the appointment. If you have to be in this world in DC, I wanted to let you know that it is better to make sure that you move it even when you log out the day before. …… I regret that it would have been better to inform you after implementation or as a final reminder before implementation, which was really too far ahead of the curve. I am aware from my long experience as an administrator that such predictions can cause anxiety. Sorry about that.
 It is entirely my fault that people have taken it for granted that DC travel is somehow very difficult and that it is not so easy to come and go. I hope you can be assured that this is not the case. I will make sure to include this kind of interview and other information in the text I publish in the future.
4Gamer:
 I see, I am a bit relieved.
Mr. Yoshida:
 Also, once a DC has been moved, world-to-world teleportation is the same as before. Basically, it is almost the same as inter-world teleportation, except that you will not receive notifications from free company chat and the Cross World Link Shell (hereinafter referred to as CWLS).
4Gamer:
 Am I correct in assuming that if I go to, say, Meteor DC to visit and apply for content through DC Travel, I will be matched with people from Meteor DC?
Mr. Yoshida:
 Yes, I am. That is correct.
 Once DC travel is implemented, anyone will be able to switch DCs to see party applications in order to find the best fit for them, so it will be easier than ever to find the ideal party.
4Gamer:
 When there is a new thing or a big change, we tend to be anxious about it, but with your input, there is more hope now.
Mr. Yoshida:
 Yes, I am. If you say, "I don't care what you say, I don't want to be the one who has to move to Meteo DC," then of course that's the end of the story. …… But by having four DCs, we will be able to have considerably more people in the same place at the same time than we do now. Each DC will be more active. On top of that, the ability to use DC Travel to freely travel to all four DCs and play in a variety of ways is a genuine advantage, and we believe it is a direction that will enrich the play experience. I would like to discuss the merits of this again.
4Gamer:
 I hope that eventually the wall of DC will be gone as well.
Mr. Yoshida:
 It is difficult to remove the wall itself due to the current structure, but I too hope that this will happen. My ideal is that eventually the physical DC wall will disappear and all "FFXIV" players will be in one community.
4Gamer:
 I just want to confirm again that the world regroup will not take place before the DC travel, right?
Mr. Yoshida:
 Yes, the implementation of DC travel and world regrouping will occur at the same time, so that all logical DC locations will be accessible.
4Gamer:
 By the way, can you tell us now when that will be implemented?
Mr. Yoshida:
 Patch 6.18 is targeted.
4Gamer:
 Will both DC travel and world regrouping be coming in patch 6.18?
Mr. Yoshida:
 Yes, they will be implemented simultaneously. If you are wondering at the last minute whether or not to change your home world to a world under your original data center, we hope that you will consider changing after you have tried data center travel.
4Gamer:
 Understood. Finally, any comments for players who are looking forward to Patch 6.1?
Mr. Yoshida:
 First of all, thank you very much for enjoying the "Endwalker" which is also Patch 6.0.
 Even though there were some issues that remained, such as the 2-week delay of the release and the huge crowding, I believe that as a team and as a project, we have left a very significant mark on this expansion package. I think we have reached a point where we would be punished for wanting more. This is due to the long support of our players, and we are very grateful to you for that. Thank you very much.
 We have also received an incredible variety of game awards from around the world. While we are proud of these achievements, this is not our goal, and we would like to work together with everyone to take on various challenges over the next 10 years and make "FFXIV" even bigger and better.
 I hope that everyone will enjoy Patch 6.1, which marks a new start for us, and that you will continue to enjoy "FFXIV," which is full of surprises and freshness, as we develop new content starting with Patch 6.2.
4Gamer:
 Thank you very much for your time today.