Hello summoners, it's time to cover the best picks for Bot lane in Patch 12.7. The Patch brought some interesting changes but a lot of strong champions have stayed on top. These champions are META right now and there will be a lot of severe balance changes needed to remove them from the top of the board.
You may also like:
Jinx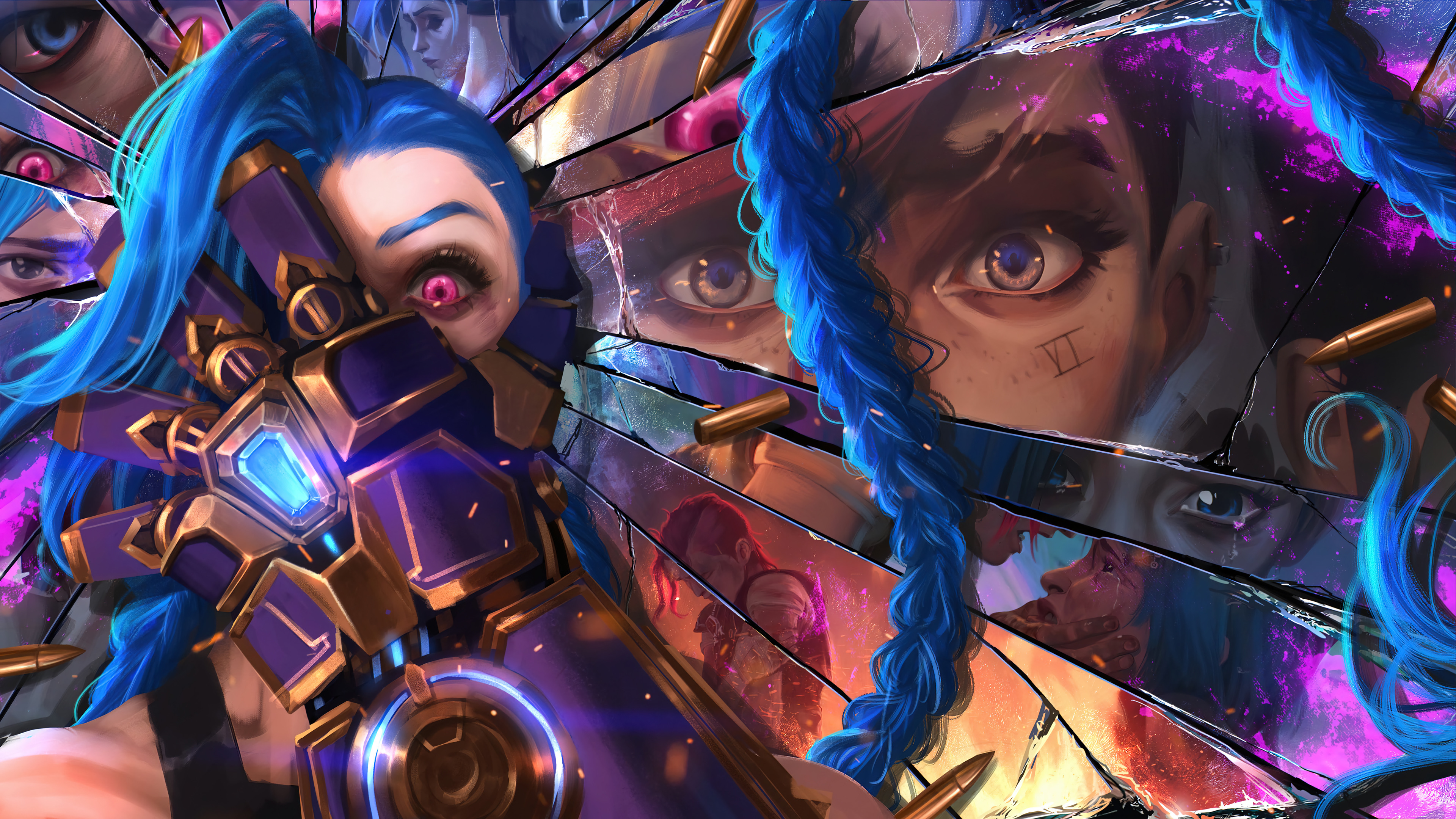 Jinx is one of those adc that scale over time. Meaning they might have an weak early game but as the game progresses she becomes a beast that just burns her enemies like they are made of butter. With her long range W she is able to poke and chase down the opposing enemy laners and with the switch of weapons on her Q she can choose between the two weapons that she has. Each one is good for some particular situations. A cherry on top would for sure be her global ultimate that makes her snipe those little rascals who taught that they could run away.
Jinx's abilities
P – Get Excited!
INNATE: Whenever Jinx scores a takedown against an enemy champion, epic monster, turret, or inhibitor within 3 seconds of damaging them, she gains 175% bonus movement speed which decays over 6 seconds.
Additionally, she gains 25% total attack speed and is allowed to exceed the attack speed cap for the same duration.
Q – Switcheroo!
TOGGLE: Jinx switches between Pow-Pow, her minigun, and Fishbones, her rocket launcher.
POW-POW: Basic attacks with Pow-Pow generate a stack of Rev'd up for 2.5 seconds, stacking up to 3 times, with the duration refreshing on subsequent attacks with Pow-Pow. Rev'd up grants bonus attack speed, with the first stack being twice as potent. Stacks expire one at a time.
FISHBONES: Basic attacks with Fishbones cost mana on-attack to deal 110% AD modified physical damage to the primary target as well as surrounding enemies. The damage is affected by critical strike modifiers. While using Fishbones, Jinx gains bonus range but loses 10% of her bonus attack speed.
Only the first attack after switching to Fishbones will benefit from Rev'd up.
W – Zap!
ACTIVE: Jinx fires a shock blast in the target direction that deals physical damage to the first enemy it hits and reveals and slows them for 2 seconds.
E – Flame Chompers!
ACTIVE: Jinx tosses out 3 Chompers at the target location that land in a perpendicular line after 0.4 seconds, arming after 0.5 seconds, and exploding after 5 seconds, dealing magic damage to all enemies within a small area.
Each Chomper explodes on contact with an enemy champion, knocking them down and rooting them for 1.5 seconds. Enemy champions can only be affected by one Chomper.
Flame Chompers! will cast at max range if cast beyond that.
R – Super Mega Death Rocket!
ACTIVE: Jinx fires a rocket in the target direction, granting brief sight of the area it flies through. The rocket explodes upon colliding with an enemy champion, dealing physical damage to them and all enemies in an area around them and granting sight of the area around them for 2 seconds.
The rocket deals 10% − 100% (based on distance traveled) damage; the bonus damage based on missing health is kept the same.
Enemies surrounding the main target take 80% damage. Bonus damage based on missing health is based on each unit's own missing health, with a maximum bonus damage of 800 against monsters.
Yasuo
Yes, I hate myself for even mentioning Yasuo on any kind of list I make but we must face facts. For some unknown reason Riot decided that this champion is not strong enough so every little change they do, whether it is a pure buff to him, a nerf to some opposing Adc or Mid lane champions, or some indirect buffs for items or runes. Yasuo benefits from them all. I know that unskilled kids who are crazy about this guy will jump in and get ready to destroy many games, but I'm sorry, I had to do my duty. I now declare Yasuo, a META champion for the current Patch.
Yasuo's abilities
P – Way of the Wanderer
INNATE – INTENT: Yasuo's total critical strike chance is multiplied by 2.5 from all other sources, but his critical strikes deal only 「 (57.5% + 31.5%) AD bonus physical damage. 」 Additionally, 「 every 1% critical strike chance in excess of 100% is converted into 0.4 bonus AD. 」
INNATE – RESOLVE: Yasuo generates Flow for every 59 / 52.5 / 46 (based on level) units he travels by any means. At「 100 stacks 」and upon taking damage from enemy champions or monsters, Yasuo consumes all Flow to shield himself for 115 − 525 (based on level) for up to 1 second.
Q – Steel Tempest
ACTIVE: Yasuo thrusts his sword in the target direction, dealing physical damage to enemies hit and applying on-hit and on-attack effects at 100% effectiveness to the first enemy hit. Steel Tempest's damage can critically strike for「 (47% + 29.4%) AD bonus physical damage.
If Steel Tempest hits an enemy with the thrust, Yasuo gains a Gathering Storm stack for 6 seconds, which refreshes upon receiving the second stack.
While Yasuo has two stacks of Gathering Storm, Steel Tempest consumes the stacks to instead unleash a whirlwind that travels in the target direction, dealing the same damage and knocking up all enemies hit for 0.75 seconds, or 0.9 seconds in combination with Sweeping Blade.
Steel Tempest's thrust is interrupted if Yasuo is affected by disarming crowd control during the cast time but its cooldown is reset to 0.1 seconds.
Casting Steel Tempest during Sweeping Blade will instead affect enemies around Yasuo at the end of the dash, or doing so immediately at his landing location after blinking while ending the dash prematurely. Casting Sweeping Blade when Steel Tempest's remaining cooldown is less than 0.5 seconds resets this remaining cooldown to 0.

If Yasuo becomes unable to cast abilities during the dash after buffering, Steel Tempest will not cast, but will still go on cooldown. (bug)
W – Wind Wall
ACTIVE: Yasuo creates a gust of wind that travels in the target direction over 0.25 seconds to form a wall in front of him. The wall slowly drifts forward another 50 units over 3.75 seconds, blocking all hostile non- turret projectiles that attempt to pass through it and granting sight of its surroundings.
E – Sweeping Blade
ACTIVE: Yasuo dashes a fixed distance in the direction of the target enemy, dealing them magic damage if they are in range upon arrival. Additionally, he becomes ghosted for a few seconds.
Each Sweeping Blade cast increases the next dash's base damage by 25% for 5 seconds, stacking up to two times for a 50% increase.
Sweeping Blade cannot be cast on the same target more than once every few seconds.
Yasuo will be knocked down by any immobilizing or polymorphing crowd control, excluding sleep(bug), during Sweeping Blade.
Last Breath can be cast during Sweeping Blade. If Steel Tempest has been buffered, Wind Wall may also be cast during it. (bug)
R – Last Breath
ACTIVE: Yasuo blinks to the other side of a visible airborne enemy champion nearest to the cursor, instantly generating maximum Flow while resetting Steel Tempest's stacks.
Upon arrival, he knocks up the target and all airborne enemy champions around them for 1 second, revealing them and slashing them with his sword over the duration, dealing physical damage thereafter. Enemy champions around the target that become airborne before the effects end will also be knocked up for the remaining duration and dealt damage at its end.
For the next 15 seconds, Yasuo's critical strikes gain 50% bonus-armor penetration.
If Yasuo would be placed inside a turret's attack range upon blinking, he will instead attempt to position himself outside it (does not apply to Nexus Obelisk).
A nearby airborne enemy champion is required to cast this ability.
Related:
Vayne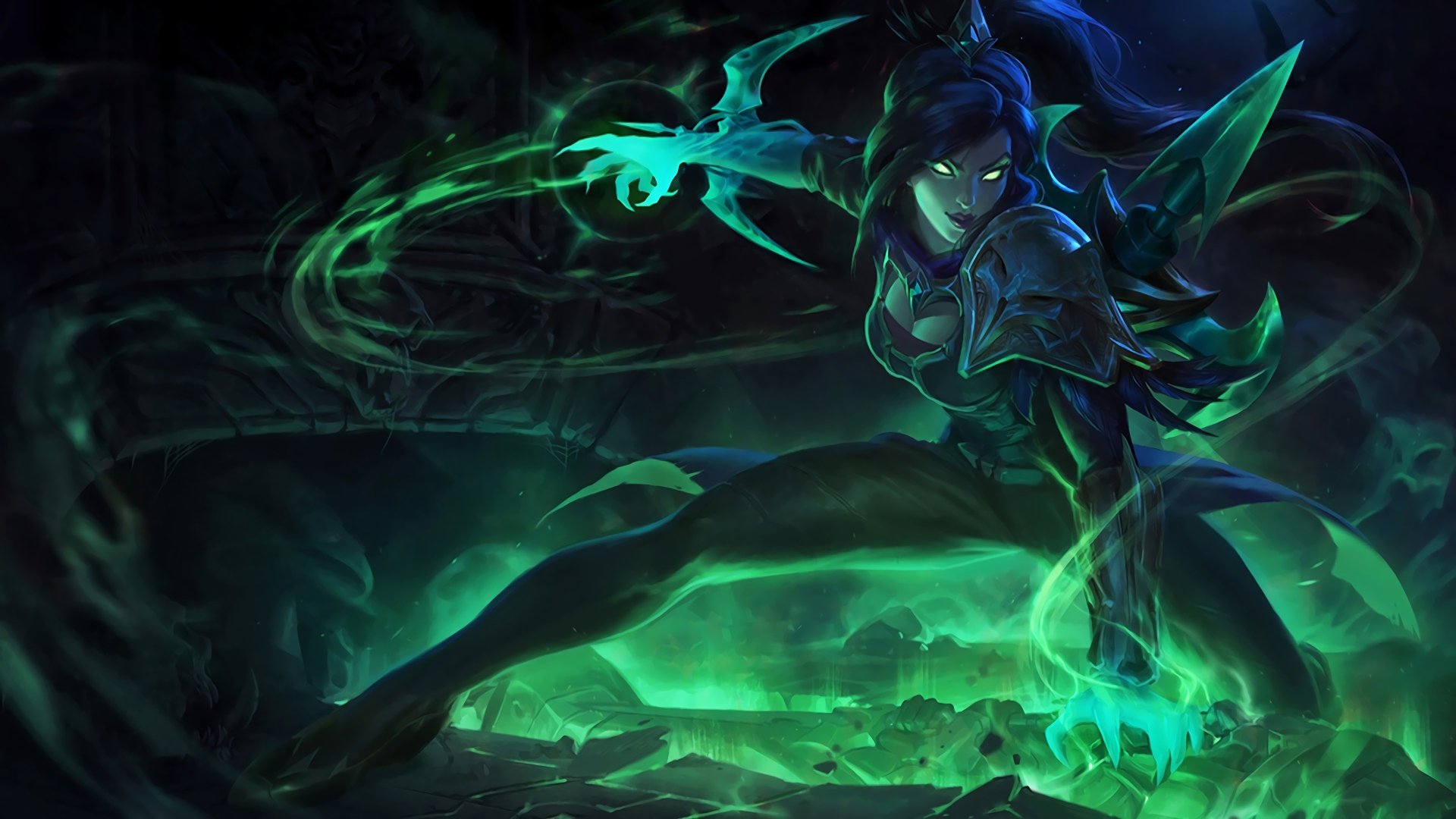 There is a reason why Vayne is called The Hyper Carry. Once she is fed and full build she can go 1 v 5 and win it in a blink of an eye. The thing that is to be grateful for that is her invisibility, dodge in the from of her Tumble and the knockback that can stun enemies when they are smacked against the wall. There is no other carry in the game that can go 1 v1 against her except from the fully build Jhin that can one shot her if he is the first one to strike. The thing to take into consideration is her weak early game since she is squshy and she hasn't got too much damage until she assembles at least two items. You should aim for the balance of attack speed and attack damage with a dash of Lifesteal.
Vayne's abilities:
P – Night Hunter
INNATE: Vayne gains 30 bonus movement speed when moving towards a nearby visible enemy champion.
FINAL HOUR: Night Hunter's bonus movement speed is tripled to 90.
Q – Tumble
ACTIVE: Vayne dashes in the target direction, though not through terrain, and her next basic attack within 7 seconds deals bonus physical damage.
Tumble resets Vayne's basic attack timer.
W – Silver Bolts
PASSIVE: Vayne's basic attacks on-hit and Condemn apply a stack of Silver Bolts for 3.5 seconds, stacking up to to 3 times, with the duration refreshing on subsequent applications. Applying a stack to a different enemy removes all stacks from the previous target.
The third stack consumes them all to deal bonus true damage, with a minimum threshold, and capped at 200 against monsters.
E – Condemn
ACTIVE: Vayne fires a heavy bolt at the target enemy that upon arrival deals them physical damage and knocks them back 475 units, though not through terrain.
If the target collides with terrain, they take bonus physical damage and become stunned for 1.5 seconds.
R – Final Hour
ACTIVE: Vayne equips her crossbow, gaining bonus attack damage and tripling Night Hunter's bonus for a duration.
Additionally, Tumble's cooldown is reduced, and casting it grants Vayne invisibility for 1 second. Attacking or casting Condemn breaks the stealth immediately.
While active, scoring a takedown against an enemy champion within 3 seconds of damaging them extends Final Hour's duration by 4 seconds, up to its original duration.
Jhin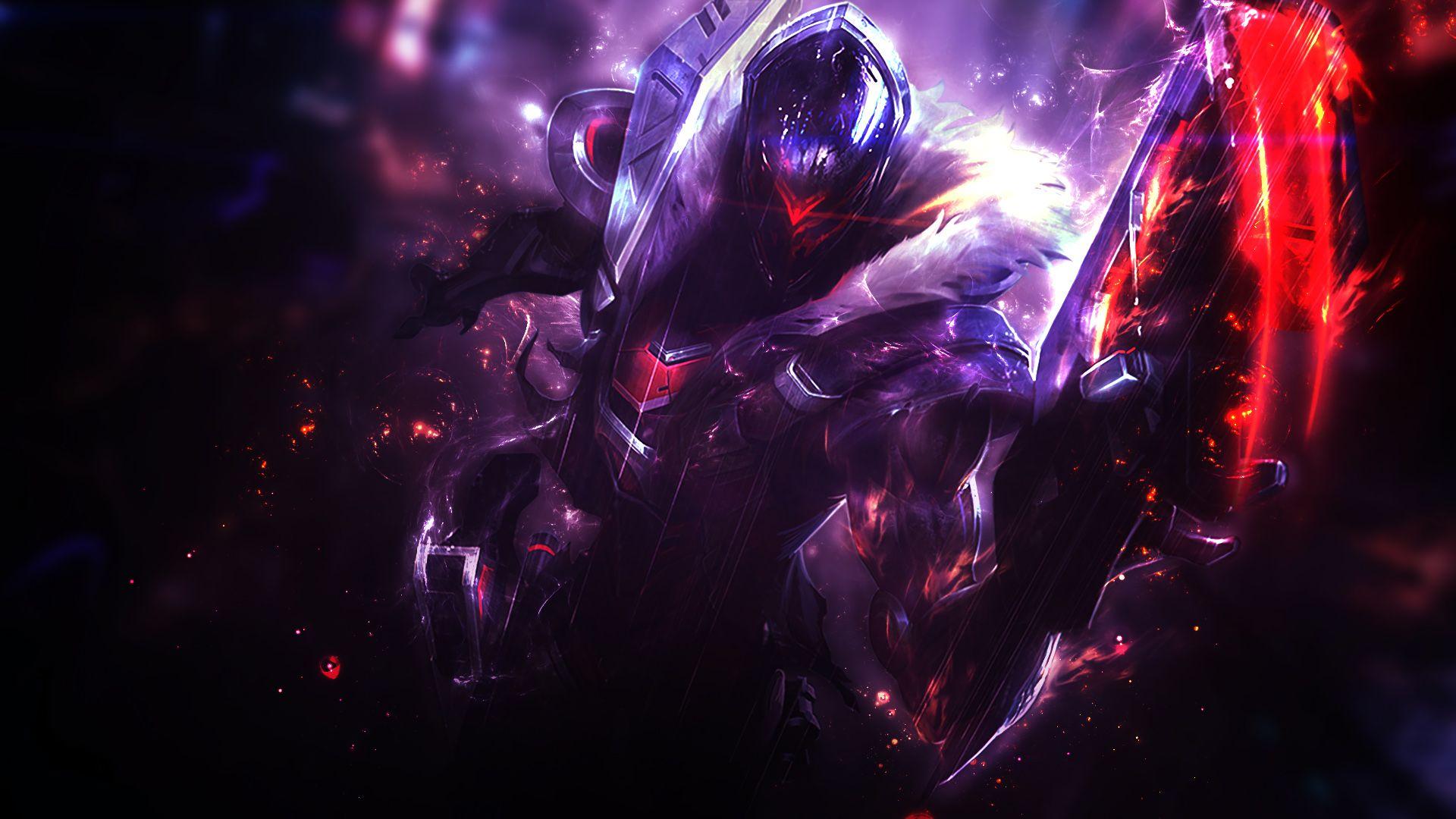 Jhin was always relevant since his release as one of the strongest Attack Damage and Critical Strike champions for the bot lane, and in the game itself. Although it takes some skill to master him, once you do the rewards are incredible. He can oneshot his opponents once he is full build and his critical strike is the main thing that you should focus when you are playing around with items. His abilities aren't that relevant for his playstyle apart from root ability and his ultimate that can be used to disrupt enemies from distance, steal some objectives and snipe the runaway champions with low hp.
Jhin's abilities
P – Basic Attack
BASIC ATTACK: Jhin fires at the target with Whisper, dealing 100% AD physical damage and applying on-hit and on-attack effects.
Jhin's basic attacks can critically strike and these attacks have slightly increased missile speed, but only deal 「 (150.5% + 30.1%) AD physical damage. 」
Jhin's attack speed cannot be improved at all except through growth.
P2 – Whisper
INNATE – DEATH IN 4 ACTS: Jhin's basic attacks consume ammunition within 4 rounds. He will reload over 2.5 seconds immediately after expending all rounds or withholding leftover rounds after 10 seconds of being out of combat and not being affected by crowd control. The latter reload can be interrupted by declaring an attack or casting an ability.
Jhin's final round attack has an uncancelable windup versus champions, always critically strikes its target, including structures, and also deals 15 / 20 / 25% (based on level) of the target's missing health as bonus physical damage to non-structures.
INNATE – EVERY MOMENT MATTERS: Jhin gains 4% − 44% (based on level)「 (+ 0.3% per 1% critical strike chance) (+ 0.25% per 1% bonus attack speed) 」 AD as bonus attack damage.
Additionally, critical strikes grant Jhin 10% (+ 0.4% per 1% bonus attack speed) bonus movement speed for 2 seconds.
Q – Dancing Grenade
ACTIVE: Jhin throws a grenade at the target enemy that can bounce to up to three additional nearby enemies, dealing physical damage to each target.
The damage is increased by 35% of the base damage if the enemy the grenade last bounced off of dies shortly after being hit.
W – Deadly Flourish
PASSIVE: Enemy champions that trigger a Lotus Trap to bloom or are damaged by Jhin or allied champions are marked for 4 seconds.
ACTIVE: Jhin fires a shot in the target direction that deals physical damage to all enemies in a line until colliding with an enemy champion, reduced by 25% against non-champions.
Hitting a marked champion roots them for a duration and grants Jhin Every Moment Matters' bonus movement speed.
E – Captive Audience
PASSIVE: Jhin periodically stocks a Lotus Trap charge, up to a maximum of 2.
PASSIVE – BEAUTY IN DEATH: Whenever Jhin kills an enemy champion, he summons a Blooming Lotus Trap on their corpse.
ACTIVE: Jhin places a Lotus Trap at the target location which, upon landing, becomes stealthed after arming over 1 second, lasting for up to 180 seconds and granting sight within its radius. The Lotus Trap blooms upon enemy contact, with enemies in the area at the time of its trigger becoming revealed for 4 seconds.
Blooming Lotus Traps slow enemies within the area by 35% for 2 seconds before exploding, dealing magic damage to enemies. Lotus Traps deal 65% damage against non-champions and champions who have been struck by another Lotus Trap in the last 1 second.
R – Curtain Call
ACTIVE: Jhin channels for up to 10 seconds, transforming his weapon into a powerful cannon. He gains the ability to recast Curtain Call up to 4 times within its duration.
RECAST: After 0.25 seconds, Jhin fires a round in the target direction that grants sight around its trajectory for 0.5 seconds and deals physical damage, which is increased by 0% − 300% (based on target's missing health), to all enemies in a line until colliding with an enemy champion, slowing them by 80% for 0.5 seconds, and revealing them for 2 seconds. Each cast has a static cooldown of 1 second.
The fourth shot critically strikes for (100% + 35%) bonus physical damage.
Conclusion
The best bot laners in the game right now are here and we have got you covered. With our guides and tier lists the chances are that you will never be among the lower ranked players since you will know all of the META champions and how to abuse them properly!
Stay tuned, there is a lot more to cover, only on The Games Cabin!