Muv-Luv" Author Kouki Yoshimune, Mafia Kajita, and BRZRK Discuss "Standpoint/View Point" which makes People Strong; Part 2 Discusses: Why was he not afraid to take on 650 Million Yen in debt.
Have you read the first part of the conversation between "Muv-Luv" author Kouki Yoshimune, Mafia Kajita, and BRZRK that was published at the end of 2016? The first part of the interview gave us an insight into the personality of Mr. Yoshimune, the creator of the "Muv-Luv" series, but the topic of the main story, which is of interest to fans of the series, was left unaddressed halfway. Without going into too much detail, let us continue with the main story.
Original Article Link: Here. Third Part Link: Here.
Promotion strategies for "Kimi Nozo" and "Muv-Luv" were carried out simultaneously.
Mafia Kajita:
 Now, I would like to continue with the "Muv-Luv" series, which was a parallel project to "Kimi ga Nozomu Eien" (Kimi Nozo) ……. The two were released at quite a distance from each other, weren't they?
Mr. Kouki Yoshimune:
 Yes, about two years apart. I was going to publish it six months after "Kimi Nozo" because it was a pair of projects that approached the same theme from micro and macro perspectives (laughs).
Mafia Kajita:
 I am a relatively newcomer to "Muv-Luv," so I don't know what happened back then, but there were many twists and turns (laughs).
Mr. Yoshimune:
 At the time, "Muv-Luv" was being developed under the tentative title "Age Gakuen" and in contrast to the static and realistic "Kimi Nozo" we wanted to create a dynamic and happy-go-lucky surprising manga-like worldview. As I mentioned earlier, this was the approach that Leaf and Key were good at, what we would now call a "Light Novel-like" (ラノベRanobe) approach. However, this was very difficult for us.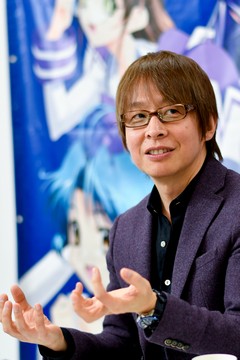 BRZRK:
 What was so difficult about it?
Mr. Yoshimune:
 Precisely, the basis of the conceptual points, such as "Moe".
Mafia Kajita:
 Isn't that the most important part! (Laughter).
Mr. Yoshimune:
 When I think about it, at that time at Age we only had the type of people who could create things based on logic, and there was no one who could understand and put into practice the concept of sensuous Moe (laugh). While other projects were progressing reasonably well, the Age Gakuen project did not give me any sense, no matter how much time passed, that made me say "This is it!". One day, after several months of worrying, I put the theme aside for the time being and asked, "Honestly, what is it that you guys want to do?"
BRZRK:
 When you lose your way, return to your starting point. These are the words of His Highness Koubuin Yuuhi*, aren't they? I understand (laughs).
*Shogun of the Japanese Empire in "Muv-Luv Alternative" (hereinafter referred to as "ALT").
Mr. Yoshimune:
 Then the director, Baka-Ouji Persia, said, "We really want to do a robot story." I asked: "If it's a robot story in a school, would it be about a club that builds robots and aims to compete in a national tournament?" Baka-Ouji replied, "I want to do something like "Battle Fairy Yukikaze." As a robot and a science fiction guy, I naturally cut into the conversation and said, "Of course I want to do that!" with a shout, In the center of Nakano-Fujimicho (laughs).
BRZRK:
 It's old (laughs).
Mr. Yoshimune:
 With that momentum, I immediately went home and put together an outline. I pulled out my idea book for the "Orbit Diver" project that I had been wanting to do during my consumer era (Console Games Days). I went back to my roots of liking robots and science fiction and wanting to make a "space fighter" and said, "This is the kind of school robot game I want to make! I roughly compiled a worldview, outline, and setting.
 In the original project, the main force of humanity was a 2.5-meter tall powered suit made by an actual weapons manufacturer, so we replaced it with a robot just over 18 meters tall, but we used the name, setting, theme, and science fiction material of the enemy BETA as is.
Mafia Kajita:
 Wow. So, at that point, "Alternative" were already in place.
Mr. Yoshimune:
 The most fun part was when I was thinking of sci-fi ideas on how to combine modern everyday life and school, which were the must-have elements for selling eroge at the time, with the world of interstellar warfare. Two days later, at a meeting, I handed out an outline on several A4 sheets and said, "This is what we're going to do!"
BRZRK:
 It changed from "What are we going to do?" to "Let's do this!".
Mr. Yoshimune:
 But Prince Baka would say something like "You've got to be kidding! Even thought that's what I have been talking about from the start, when I said I wanted to do a robot project, and then you come up out of nowhere and say "Let's do this!". (laughs)
Mafia Kajita:
 But both the old project and "Muv-Luv," the original project, were works that Mr. Yoshimune wanted to create, weren't they? Why has it not been made available to the world until that moment?
Mr. Yoshimune:
 To put it simply, the ends and means had somehow been switched, and my experience in marketing had inversely narrowed my perspective.
BRZRK:.
 Like what?
Mr. Yoshimune:
 For example, there were many theories in the eroge industry at the time, such as that the main character had to be surrounded by girls in order to sell well. Everyone I met in the industry was unanimous in saying that robots and science fiction were absolutely prohibited, as were vampires, fantasy, and noir.
BRZRK:
 Ah, it was because you had done your marketing so well that you could not venture out or make risky attempts.
Mafia Kajita:
 My guess is because Mr. Prince Baka's opinion was purely a desire, with no marketing in mind. He just said, "Oh, I can do that?".
Mr. Yoshimune:
 What Baka-Ouji said at that time was shocking. It was like being hit over the head with a pot. Not only eroge, but even in the consumer industry, it was said to be a genre that did not sell well, but with just one opinion at an internal brainstorming session, I was like, "What? We can do both robots and science fiction?" I felt sorry that I had become so absorbed in the game industry that I had dulled the weapons I had acquired in the advertising and publishing industries.
 While I was being reserved because it was an industry I didn't understand, I was simply leaving the important parts to other people's judgment and taking advantage of it. I had my own ideas and opinions, but before I knew it, they had become something that fit within the bounds of industry theory. In the end, I was so driven by the conditions that I stopped thinking about the important points with my own head.
Mafia Kajita:
 That kind of thing is really scary. It's hard to recognize it by yourself.
Mr. Yoshimune:
 Yes, I did. After we had decided on the content, we sent the proposals for "Kimi Nozo" and "Muv-Luv" to some of the industry leaders and the presidents of the manufacturers with whom we were close. Most of them said, "They will never sell, so we should stop working on them." So, on the contrary, I was convinced "This is a great opportunity because there are no rivals!". To use the latest cool terms, it was a blue ocean (laughs).
BRZRK:
 That's why it's old (laughs).
Mafia Kajita:
 It's amazing that you can think that way even when everyone is against it.
Mr. Yoshimune:
 I didn't accept everything without questioning it, and I tried to collect evidence by myself. When I checked the Internet for reputations of works in the genre of erotic games that were said to be not selling well at the time, surprisingly, many of them were highly rated. Conversely, when I read the comments of those who gave low ratings, they seemed rather superficial, thin, and emotional.
 In other words, the works of those who like the genre and make them are clearly interesting to those who also like the genre and buy them. The moment I saw this and realized that "No sales = Boring," is not correct. I was able to translate the theories of the Eroge industry, which I had been unsure of, into the know-how of the bubble economy.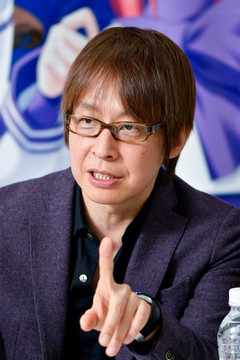 Mafia Kajita:
 Can you get more specific?
Mr. Yoshimune:
 In short, by creating what the dilettante (People with superficial interests in art or knowledge) wanted to create in a straightforward manner, they merely alienated those who were not interested in the genre. It's just like a presentation. If you fail to "First gain sympathy and win their confidence," from then on, people will start checking negatives, and they won't even consider your proposal (laughs).
BRZRK:
 I see. That leads to the demo version that includes the entire first chapter of "Kimi Nozo" and the EXTRA version of "Muv-Luv" that is equivalent to a single school galge.
Mr. Yoshimune:
 That is true. In that sense, it's good that science fiction is becoming more common these days. It is a lie that it has declined, as is often said. In general novels, novels, and TV dramas, science fiction settings such as time leaps and parallel worlds are included, and people who are not interested in science fiction are enjoying them.
 "Your name" is… is a perfect example. It's basically the same thing we did with "Muv-Luv". The main focus is on the characters and situations that are relatable to the largest audience, and science fiction is not emphasized by elaborating on the background, setting, and story scheme. It is faster to build a bridge than to try to sell science fiction that sticks to the old style.
Mafia Kajita:
 After all the twists and turns, the contents of Age Gakuen (tentative) was decided, but was production going smoothly from there?
Mr. Yoshimune:
 The pace of individual work has increased. That's because in order to make what I wanted to make, I had to be very selfish and talk volubly. (Talk with a lot of words, forcibly or confidently) (Laughs.) But because of that, the volume of work increased rapidly, and the pace of production as a whole dropped.
BRZRK:
 But wait a minute, …… you decided to wash your hands of the industry if you didn't hit it in the first 3 years, and 1.5 years had passed by the time Age Maniacs was released (2000), right? Then "Kimi Nozo" (2001) was released, and then "Muv-Luv" (2003) was released. ……?
Mr. Yoshimune:
 Including "Alt" (2006), it has been a total of six years. Even though I didn't like making games in the span of three or five years for home video game consoles (laughs).
 Well, at any rate, "Kimi Nozo" and "Muv-Luv" finally came together as a pair of projects. Actually, there are many more things that have happened since then, but I'll just give you the outline ……. since It would take too long to go into detail, so I'll leave that for another time.
Mafia Kajita:
 Hmmm, I'm curious about that too. …… (laughs)
BRZRK:
 In the interview at the time, you were quite frank about it, weren't you? I remember that (laughs).
Mr. Yoshimune:
 At any rate, we have decided on a theme and what we want to do. We had a pair of plans, but then I was told, "This is not the size of the budget for an erotic game." Naturally. (laughs). Then, we wracked our brains to figure out how to keep the budget low while maintaining a good appearance, and we decided to use the same area and school as the stage.
 If they shared the same uniforms, we could use them for publicity, also we shared the same backgrounds and BGM, to reduce the cost of the design and setting.
 In addition, Hakuryo Hiiragi School and the fictional town of Yokohama Hiiragi were created as a painstaking effort to convert various budgetary negatives into positives. After trying it out, I realized that it was rather easy to understand and convenient to depict the same theme in micro and macro opposites.
BRZRK:
 I see, so that's why the two works share a common setting. I had always thought that there was a worldview.
Mr. Yoshimune:
 It is fundamental to efficiency to give one thing multiple meanings and uses. This made it easier for us to create a variety of advertisements and magazine articles that would promote both.
 For example, when a magazine published a scoop on "Kimi Nozo", both Haruka (Suzumiya Haruka) and Mitsuki (Hayase Mitsuki) were wearing winter clothes on the image board we published.
BRZRK:
 So that was it?
Mr. Yoshimune:
 "Kimi Nozo" is a summer story, so in the actual game, the characters are dressed in summer clothes. However, we calculated backward from the release date, so the full-scale promotion of the game would start in the winter. Again, to reduce the budget and for the "Muv-Luv" teaser campaign, as well as to serve as reference material for drawing, we made the winter clothes ahead of time. We had our salespeople wear the winter uniforms at the Comiket booth at the end of that year, and we also used them for the "Muv-Luv" promotion, so the uniforms provided long-term support for our PR.
 Since we had such uses in mind in advance, we decided to create an unprecedentedly striking design to enhance the publicity effect. The emblem was designed by Reima Manfu*, and I seemed that there had been no precedent for the design of the emblem with the shoulders pointed upward.
*Designer of the original drawings for "Fossil Song" and "Spiral Corridor". Currently independent from Age.
BRZRK:
 Wow, I did not know that.
Mr. Yoshimune:
 Later, a great man from a major apparel manufacturer praised me, saying, "That was an invention." I was really happy at that time.
Mafia Kajita:
 I guess you are saying that not only games such as "Akane Maniacs" but also everything there was in a sense a location test experiment. (of a film shoot, or a playtest in this context)
Mr. Yoshimune:
 Looking back now, I can say that, but at the time I was just desperate. I think there were parts of the work that I was not that clearly aware of.
 Anyway, regardless of whether it was good or bad, I certainly had the intention of using everything I could get out of it and putting it to good use. A few months before the publication of the "Kimi Nozo" scoop, I went to present it to the various media in the industry, mainly magazines. I spent about six hours going over the entire story of "Kimi Nozo" and "Muv-Luv," from beginning to end, including spoilers for all the routes. (laughs)
Mafia Kajita:
 That is great, but from the POV of an eroge fan, is a waste. (Laughs)
BRZRK:
 But that was an unusual approach, wasn't it? It's a huge risk to tell the whole story of an adventure game.
Mafia Kajita:
 If you ask me, it's true (laughs). If information is leaked, there is not only the risk of spoilers, but also the risk of plagiarism.
Mr. Yoshimune:
 Don't worry, even if you plagiarized it, it will never become famous. The people who were paying for it have already decided that something like "Kimi Nozo" or "Muv-Luv" will never sell (laughs). Besides, people can never remember the details and structure of a story if they have to listen to it one-sidedly for six hours. That is why I adopted the saturation tactic of telling the whole story, not just the parts that were memorable.
 But, as BRZRK pointed out, the usual PR presentation of telling the whole story in an easy-to-understand manner was not done at all in the industry at that time, so I was confident that I could make a sufficient impact on the person in charge and the editor-in-chief.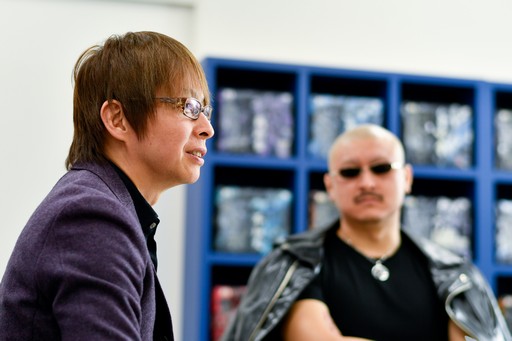 BRZRK:
 Oh, another burst of know-how during the bubble-era . How was it received?
Mr. Yoshimune:
 Thankfully, it was very well received, including by magazines that were in the fierce competition for the cover. After the presentations were over, each company said on the spot, "We'd love to do Muv-Luv!" (laughs).
BRZRK:.
 I knew it. (laughs)
Mr. Yoshimune
 It is only natural that people would be interested in an oddball that encompasses everything from school to war, love, and robots. In the sense of a love story in a modern school, "Kimi Nozo" is also a familiar industry theory type, and if you put it up against a quirky one like "Muv-Luv," it's not so impressive. As a magazine editor, I thought it was a perfectly reasonable decision. But I managed to convince them that if they were going to play "Muv-Luv," they should also play "Kimi ga Nozomu Eien," or they would definitely regret it.
 I remember that when I tried to buy "Dragon Quest III" a long time ago, it came in a set with other games …..(Laughs).
Mafia Kajita:
 That is totally a tying-up business practice, isn't it?
BRZRK:.
 But "Kimi Nozo" was a big hit, so it turned out well, didn't it?
Mr. Yoshimune:
 I was deeply relieved when I received a great response to the trial version of the first chapter. The refund frenzy immediately after its release got my blood boiling, though (laughs).
BRZRK:
 Uh, …… (laughs). You took a lot of time to develop the media, including attaching an entire demo version of a light eroge to a magazine.
Mr. Yoshimune:
 It is common practice nowadays, but we would publish a short story about each character every month in a magazine and on our website several months before the release of the magazine, have the main heroine's voice actress sing the theme song, and distribute free promotional booklets in the style of doujinshi at Comiket in cosplay to create a huge line of people waiting in line. There was quite a response because there was no such thing. We were the first to do a live show at a corporate booth at Comiket.
Mafia Kajita:
 As I recall, the origin of tsundere was also "Kimi Nozo" Ayu Daikuuji (Ayu Daikuuji, a subheroine of Kimi ga Nozomu Eien), wasn't it? I guess you could say that …… you have been trying to encourage creating your own trends for the industry and players by trying many new things that are not bound by existing rules.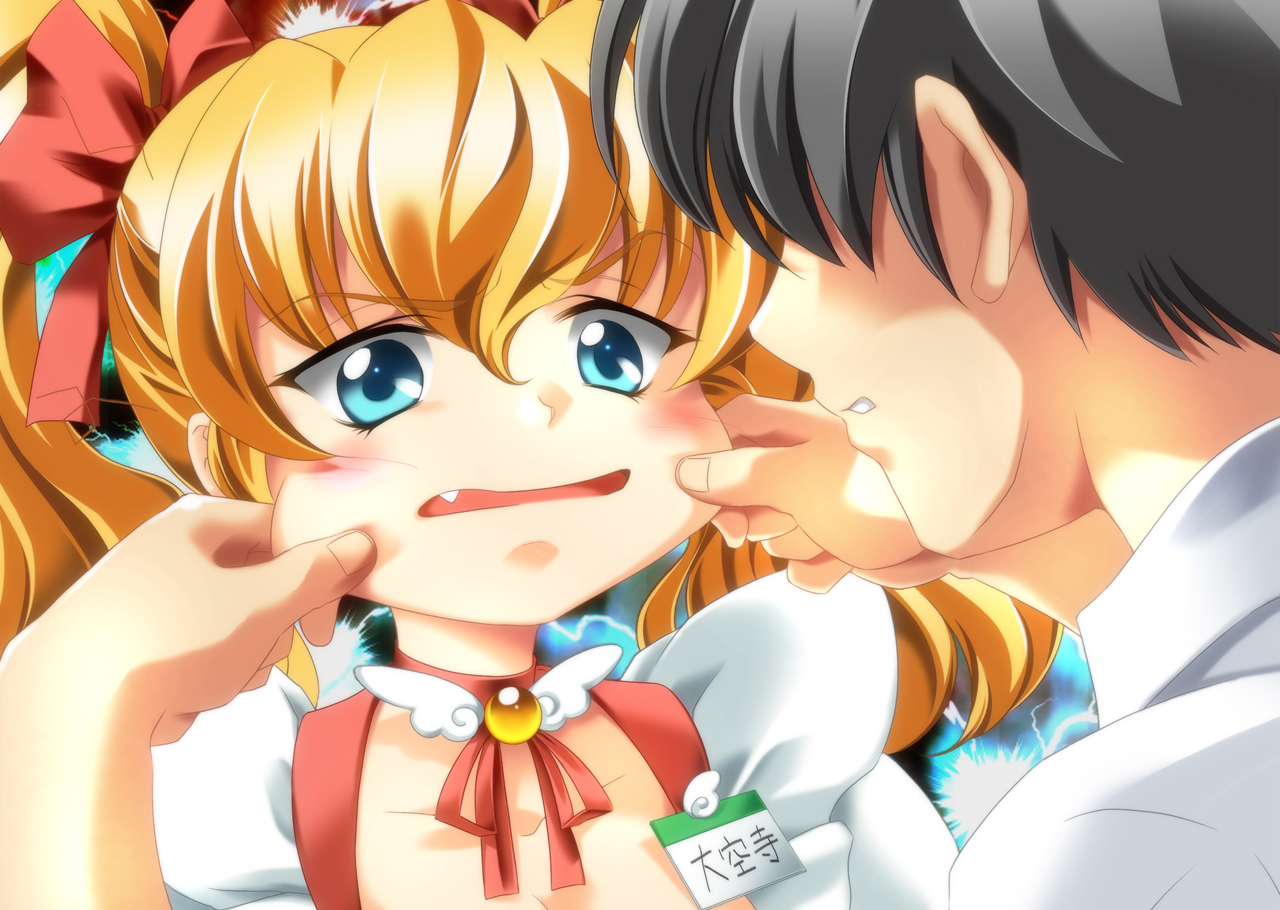 Ayu Daikuuji. I think there were characters before that, but it is often said that it was only after Kimi Nozo that the name "Tsundere" was coined and it became an attribute of the character.
Mr. Yoshimune:
 Yes, I agree. I was taught that the highest you can get in marketing is number 2, and the only way to get number 1 is to set your own trends. I was also told, "Don't make the mistake of competing in the winner's ring."
Mafia Kajita:
 That is true not only for eroge, but for any kind of work.
Mr. Yoshimune:
 However, even if we do such a trick, the entrance approach must follow existing rules and reassure players that they are on the same playing field, or they will not pay attention to it, just as in a presentation.
 However, that's when we realized that this was a different approach from the previous ones, and we built it into one package, centering on adventure games.
"Muv-Luv" is like Yoshimune's last will and testament.
Mafia Kajita:
 You mentioned earlier that Dragon Quest is at the core of your work, but I think that the storytelling of expressing both "Kimi Nozo" and "Muv-Luv" in the same world is something that requires a certain amount of skill. So I was wondering how you developed the ability to construct this story. But from what you have said so far, I have the impression that Mr. Yoshimune is not a storyteller.
Mr. Yoshimune:
 Ah, at that time, people in the industry called me an intellectual yakuza or a swindler, so I guess that's about right. I think it would be great if Mr. Kajita and I teamed up (laughs).
Mafia Kajita:
 No, that's not what I meant (laughs). Let's see, Even though you are a creator who thinks about making things, you think and act like a producer who thinks about selling things.
Mr. Yoshimune:
 At the very start, I was born to a family head of a traditional performing arts family with a strict hierarchical relationship, and I was surrounded by many adults growing up, which may have had a big influence on me. I think I was always thinking about how to tell a story to get busy adults to pay attention to me or praise me, in other words, to get them to pay attention to my story. When I think about it, the reason I wanted to become a Mangaka as a child was because I would get praised for my drawings, and I am not sure if I really liked doing it (laughs).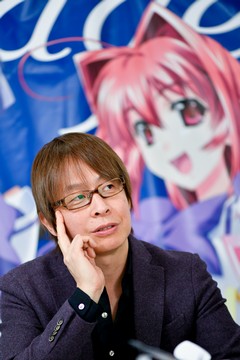 Mafia Kajita:
 I agree with you that the appeal to adults that is unique to children is the starting point for producing. In fact, I think it was because I was good at it that I was attracted to the idea of becoming a mangaka.
Mr. Yoshimune:.
 That may be so. A Manga is composed of pictures and a story, but now I am all about the story and hardly draw any pictures. I have always loved drawing pictures since I was a child, and I went into the game industry as an illustrator and a graphics artist, but I guess I was really more of a storyteller (laughs).
BRZRK:
 From what you have just said, I understand that your childhood experience nurtured your ability to produce and your interest in manga led you to become an artist. However, the structure of the "Muv-Luv" storyline is quite unique, isn't it? It is a story of the growth of the hero and heroines, as well as their relationships with organizations, the state, and the world, all intertwined with complex human relationships. Even though you have been through a lot since you were a child, I don't know how you were able to come up with such a complex storyline.
Mr. Yoshimune:
 The structure and the story itself are not that difficult to create. I am sure that everyone is making stories every day.
Mafia Kajita:
 No, no, no (laughs).
Mr. Yoshimune:
 For example, Mr. Kajita, due to his positionor standpoint, came in contact with many different people. And, as the relationships between these people and their characters develop, and continue, various things happen. When you try to convey these memories to someone else, you inevitably end up adding your own interpretations, such as your own viewpoints, perspectives, and standpoints.
 The story is a story with that subjectivity added to it. The story is a dramatic paraphrase of my story.
BRZRK:
 Seriously?
Mr. Yoshimune:
 Seriously (laughs). So let's consider the current example dramatically in terms of production.
 The theme or message is based on the subjectivity and interpretation of the speaker, Mr. Kajita. The main character is Mr. Kajita, and the people he encounters are supporting characters. Characters are symbols with individual information. When multiple symbols are connected, a kind of correlation chart is created. Based on this, when the compatibility of the information possessed by each character is compared, a relational value is created. The addition of changes over time to these relational values is the chronological event, in other words, the beginning and end of the story.
Mafia Kajita:
 I see. …….
Mr. Yoshimune:
 If we can derive each character's unique reactions to these chronological events in light of the theme, we can naturally determine the direction of each character. The story is the integration of all these elements.
 The characters are important for the entrance and the relationship values are important for continuity, but if they are the only elements in the story, the story will be objective and tentative. When all the elements are oriented according to the subjectivity of the theme, it is only then that the story becomes Kajita's original story.
 When explained in this way, you will realize that everything one experiences is a story. Moreover, we all have the ability to weave our own original stories. When I was a child, everyone naturally played games of make-believe and improvised their own stories.
Mafia Kajita:
 Ah, that makes a lot of sense. It's not that whether or not everyone can convert their experiences into stories, but for Mr. Yoshimune who has met many people, both as a representative of the company and before that. I can see that you are a producer like-creator because this is directly connected to your creation.
Mr. Yoshimune:
 Yes. In addition to the know-how I have acquired through manga, books, and movies, I have been fortunate to have had many opportunities to come into contact with people from various industries and paths in life, in other words, "characters," since my days as a publisher in the bubble era. I am simply outputting the information from my encounters with these people, their profiles, and experiences, reconstructing it according to the subject matter of the theme.
Mafia Kajita:
 Then I am concerned about the theme or message that is subjective to Mr. Yoshimune. From an artist's point of view, that is the most important thing. I heard that you had to take on a huge amount of debt for the production of "Muv-Luv," but I think the reason you went to such lengths to bring "Muv-Luv" to the world has something to do with the theme you put into your work.
Mr. Yoshimune:
 The roots of the theme and message are rather clear. One is "Eirei no Kotonoha/Words of War dead Spirits" which I read during my first visit to Yasukuni Shrine. It is a collection of wills of those who died in the last World War, and I was shocked at how magnificent they were, and I could not believe that they were written by people who were even younger than I was at that time.
 These young people gave their lives not for their country, but to secure the future of their families and children. Deep down, I think they must have hated it. But they were forced to do so. It was a kindness to kill his own feelings and reassure the bereaved family by writing a beautiful suicide note. I felt that I was too ungrateful for the peace and freedom that we later unconsciously devoured.
Mafia Kajita:
 The battles that compel us to do so are exactly what is expressed in the "Alternative".
Mr. Yoshimune:
 Yes. Then I thought about what I could do, and I thought that I should just convey what I received to someone else. Then, I decided to put my feelings into my own project. I was convinced of this from my experience of seeing the works of Yoshiyuki Tomino, Hideaki Anno, and others with heavy themes.
Mafia Kajita:
 And then you decided to put it all in "Muv-Luv".
Mr. Yoshimune:
 At first, it was something I incorporated into "Orbit Diver," but then "Muv-Luv" turned out to be a sci-fi robot, which was odd, and I felt I had to do it. Once I started working on it, I couldn't stop myself from doing it, and I put everything I had gained in my life up to that point and everything I wanted to do when I was making the work. " Muv-Luv" was really an all-out effort …… and in that sense, it is like my last will and testament.
BRZRK:
 But when you think about it, it is a very long-lasting will (laughs).
Mafia Kajita:
 The main story ends with "Alt" but the series continues with "Muv-Luv Alternative: Total Eclipse" and "Schwarzesmarken".
Mr. Yoshimune:
 If we didn't think about recovering the money by developing that kind of worldview business, we wouldn't be able to borrow more than 600 million dollars as a result. It is really a "Total War" (laughs). The strength of the world setting was necessary for long-term development, which was another reason why we packed in everything we could. Frankly speaking, we couldn't spare any effort. I died once in the sense that I had put everything out there. It's my last will and testament after all (laughs).
Mafia Kajita:
 600 million wills (laughs). Normally, just to establish a sci-fi robot story work, I would have to make one galge. ……
BRZRK:
 No, it's two full works for "Alt" (laughs), and even the UNLIMITED entry has enough for one story. The accuracy with which the storyline in the EXTRA version is perfectly coherent is extraordinary. I got goosebumps many times when I found out the answers to my questions in "Alt".
 Everything that we have been able to ignore in ordinary works as a promise, there is a reason for it in terms of the world structure, and it has not collapsed. When I played through it and ruminated on it, I thought that the creator must have worked on it to the point of death.
Mr. Yoshimune:
 In fact, everyone was like at a very high level of "Not breathing." (laughs).
Mafia Kajita:
 I'm sure you're right. …… Of course, any creator would want to do that kind of careful and detailed foreshadowing at least once. However, it is not easy to be that successful. Usually, there is no money, time, or people to do it. You have told us many reasons why you were able to succeed in doing so, but what, in your opinion, was the most important factor in finally giving it shape and bringing it to the world?
Mr. Yoshimune:
 All the staff involved in the development. Especially, the founding members. They were not on good terms, personality-wise, and neither of them liked the other's type. If we were in the same junior high school, we would definitely push each other to the point where the loser would be the squad's gofer. (laughs).
Mafia Kajita:
 Isn't that just what you hate the worst ? (laughs)
BRZRK:
 It reached that point? (laughs) With a relationship like that, how did you end up doing all of that to the end?
Mr. Yoshimune:
 The founding members were on the same development team during the Pandora Box days, and no matter how many times we went through unbelievable crises, we never ran away. Most of the founding members are still with us after 15 years, because our relationship is based on trust in our work, disregarding likes and dislikes.
 Usually, as a company grows, there is a difference in the way of thinking, and the founding members usually disappear. Simply put, we have no expectations of each other's human nature, so we are not surprised when we see something we don't like, and it has little impact on our work. Well, I don't know how everyone feels about that these days (laughs).
Mafia Kajita:
 What is it about such a relationship that goes through such a hard road and makes "Muv-Luv" such a success. ……
Mr. Yoshimune:
 Because fundamentally everyone involved was super in every sense of the word. Otherwise, this would not have happened. If I had published "Muv-Luv" as a novel, which I could have done on my own, it would have disappeared without anyone knowing about it.
Mafia Kajita:
 However, it has been more than 10 years since "Muv-Luv" first appeared on the market, and there is no other company, consumer or otherwise, that has been able to reproduce this level of quality.
Mr. Yoshimune:
 As I have said many times, it is not because other companies do not have the ability to do so, but because everyone is managing their businesses in a decent manner. They don't borrow 650 million yen without any prospect of recovery (laughs).
Mafia Kajita:
 How could Mr. Yoshimune go that far, no matter how many special people or themes he wanted to appeal to?
Mr. Yoshimune:
 I'm indifferent to numbers (laughs). I'm a terrible manager.
Mafia Kajita:
 No, no! 650 million yen is a sum that would blow away an ordinary person's life two or three times over, and it is not about the level of indifference (laughs).
Mr. Yoshimune:
 Money doesn't make or break a person! People make or break the money! You know what they say. I'm adapting Mr. Kazuhiko Shimamoto's famous saying (laughs).
BRZRK:
 What you are saying is a mess, but they are deep and heavy words (laughs).
Mr. Yoshimune:
 Does it make a different if I say "600 million" or "1 billion"?
BRZRK:
 Well, sure, if you go that far, it's …….yeah.
Mr. Yoshimune:
 So, for my part, I use the unit "a lot" for everything after 10 million yen (laugh). 100 million or 600 million is the same, I think.
Mafia Kajita:
 No, no, no (laughs).
BRZRK:
 Well, well, 10 million yen seems a bit believable, but the digits above that are certainly …….
Mafia Kajita:
 I don't know if I'll ever get a sense of it (laughs). But I think it's bad, right?
Mr. Yoshimune:
 However, there are enka singers who have actually repaid debts in the hundreds of millions of dollars on their own. At the time, enka was seen by the younger generation as a "wacky" genre, and it was a time when enka was no longer appearing on TV. Yet, they repaid hundreds of millions of dollars. Compared to them, …… I have genius members who make games together with me. So I thought I would be totally fine. That is why I was able to use my house as collateral.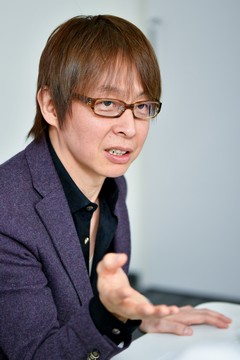 Mafia Kajita:
 So you were that convinced?
Mr. Yoshimune:
 I was confident that we would succeed, but I had no certainty at all. However, I was aware that I had done almost all I could do. When we finished debugging the beta version of "Alt" I thought to myself, "If this isn't going to be a hit, I'm done with it! I'm leaving the industry!" I shouted to myself in the director's office. After I finished playing the game, I really had goosebumps.
 I am sorry to be so forward in singing my own praises, but the production staff had finished the game to such a tremendous level that it made me shout like that. They did what no one else would do, and they did it to the best of their ability, and they showed us the result in degree of perfection of the game. I was about 60% satisfied with the expected quality of the game, but I felt that I was already wrong. I was filled with remorse that my quality expectations were too unreasonable. (laughs).
BRZRK:
 Well, I'm just a fan, but even so, it's a very high quality work.
Mr. Yoshimune:
 Thank you very much. As a matter of fact, I still believe that no one has lost to us in the field of 2-D adventure productions. Of course, 3D and animation have a lot of information and everything moves, so if you compare them properly, you will never win.
 However, if the story moves that much, there is no room for imagination on the part of the viewer, and the viewer's consciousness becomes passive, so the mental penetration of the story becomes shallow. The cost-effectiveness per hour is also far superior, so even now, if you choose the right place to put it, it can be done well enough.
BRZRK:
 There's a lot of imagination that works because it's a moderate form of story telling.
Mr. Yoshimune:
 The human brain complements information that is moderately lacking, whether in text or images, in order to piece it together. At that time, subjective interpretations are always included, so the story is naturally arranged to be customized for that person. In a sense, the story is memorized by the person as his or her own personalized story, making it easier to retain in the mind. When we passively accept فa thing for what it is, it is easy for it to be overwritten by something new and similar, isn't it?
Mafia Kajita:
 Ah, it is very easy to understand when considered in conjunction with the explanation of the storyline given earlier.
Mr. Yoshimune:
 However, if it is as well-done as "In This Corner of the World," I am at a loss (laughs). I was very surprised at the mind expanding redundancy of the characters' emotional responses to the food just from a series of movements they make while eating. I know the quality is impossible for TV animation.
Mafia Kajita:
 That is impossible yes.
Mr. Yoshimune:
 So, it would not be good if the title that contains the theme I want to convey in terms of my mission is not strong enough that it can be easily overwritten. In this sense, we cannot ignore the impact of the world situation and large-scale disasters.
 At the time when we were trying to create "Muv-Luv," Japan was dominated by a pressure of near-absolute obedience to the claims of certain countries, and the media, scholars, and education were all correct in their self tormenting view of history. This was a time when globalism was on the rise worldwide. The "ALT" scenario had to be retaken at many points due to anti-Japanese demonstrations and large-scale disasters.
Mafia Kajita:
 I still feel that kind of peer pressure.
Mr. Yoshimune:
 Such things exist in different forms at all times. At the time, Japan was said to be in a lost decade after the bubble burst, and I felt that Japanese people, especially young people, were losing confidence and turning inward at once because their ladders had been removed. I thought a lot about why the bubble economy was booming at the time, and I did a lot of research to find out why this had suddenly happened.
 After all, the Japanese people have lost their national identity. We have lost our position as a nation, and each individual does not have a clear answer to the question of who you are and where you are going.
BRZRK:
 So this is connected to the theme and the "standpoint" of "Muv-Luv"?
Mr. Yoshimune
 Yes, it is. There are countless works that encourage the youth of Japan, especially boys. However, I think they only resonate superficially because they avoid the fundamental problems peculiar to Japan, in other words, the standpoints from which they stand. Because it is idealistic, it lacks the strength to contribute to the problems that arise in real life. That's why I'm very happy to see that, coincidentally, two half-japanese, such as Mr. Kajita and Mr. BRZRK, are so into "Muv-Luv."
 Like Yuuya Bridges, the protagonist of "Total Eclipse," the difficulties of having two homelands and a double identity are unimaginable. The fact that "Muv-Luv," which questions our standpoint, resonated with both of you is a testament to the fact that what we created is working the way we want it to.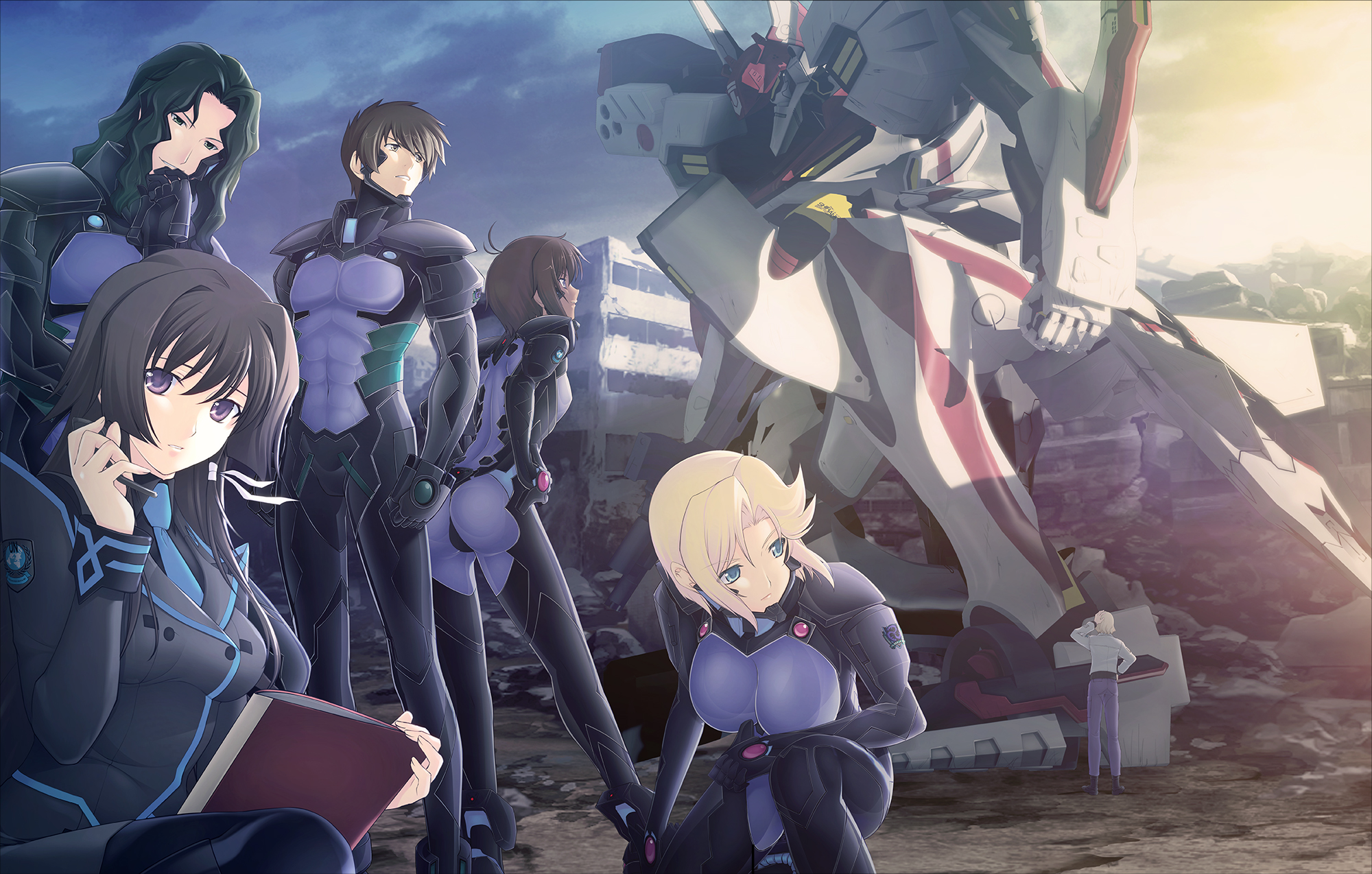 BRZRK:
 It's not completely, but I can sympathize with the anguish and frustration of such aspects.
Mafia Kajita:
 There is no doubt about it. In a sense, playing "Muv-Luv" helped me to verbalize the fuzziness in my head. I was able to verbalize what I stand for, and why I am living in Japan. It was "Muv-Luv" that convinced me of that. I played "Muv-Luv" 10 years after its release, but I think the theme and message of "Muv-Luv" are timeless.
Mr. Yoshimune:
 I remember Mr. Kajita got hooked on "Muv-Luv" and tweeted that he was playing it all at once, and since we were about to announce VR, it was great timing for a celebrity to start playing it, and I thought "woohoo" (laughs).
Together: (laughs)
Mafia Kajita:
 It was like a spoon forcefully screwing into my inner heart and gouging it. (laughs). * I felt as if I had been taught a lesson that could not be put away by the words "Galge" or "Eroge," in terms of how to create a story that resonates deeply, or in terms of a patriotic message.
*See Part I. Expressions such as …… gouging by inserting an unsharp object.
Mr. Yoshimune:
 Originally, both the right and the left are patriotic, but I think it is. on the least pretext, the first step toward self-recognition. This is the case for a generation that has been cut off from its country and community. If you don't have a sense of belonging that you can stand by, it is easy to despair when you lose the things you depend on, such as lovers, family, work, hobbies, and so on.
 On the other hand, even though we have created a debt of 650 million yen by continuing to make products that we have no assurance will sell, we have a standpoint and what we believe to be our mission in our hearts, and we have a staff of geniuses who never run away. That's why we were able to keep on making them.
Mafia Kajita:
 I see. What you just said makes a lot of sense as to why you were able to go that far.
Mr. Yoshimune:
 For example, even if a person has risen in the ranks of a large company and earned hundreds of millions of dollars, I don't think he or she can ever feel secure. We never know what the world or the economy will be like 10 years from now, how much money we will need to prepare for that, and how much money we will need to save for retirement.
 Even if you have 10 billion in assets, what if you die in an accident four days from now? There is no such thing as certainty. If that is the case, then, without being influenced by the values of others, and even if they change from time to time, you must decide what is most important to you, and keep in mind, "I am __!" I think it will be a more satisfying life if you live your life with that center of gravity as your standpoint.
 At the time, however, the bursting of the bubble economy brought about a pervasive sense of despair, and dramas in which boys worked hard to save the world became bland and unrealistic. That's why there have been so many works with girls as protagonists since then. Because boys became weak.
BRZRK:
 It is true that there has been a sudden increase in the number of works with girls as protagonists since a certain period.
Mafia Kajita:
 Nowadays, it is common for a film to have no men at all (laughs).
Mr. Yoshimune:
 As is usual in Mr. Miyazaki's works, like the pigs and so on, men who are trying to achieve something have been playing minor roles, and girls have become the norm. However, in "The Wind Rises," a boy is back as the main character. I think he reopened it because it was his retirement film.
 Girls are strong by nature, but men cannot reopen until they are cornered to the end, so as a member of the same sex, I wanted to support the boy. I wanted them to be as strong as women. Don't be fooled! Seducing someone and going out with them is not the goal! That's where the real hard work starts for women! (laughs).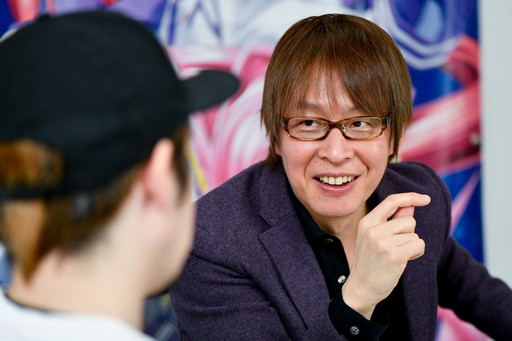 BRZRK:
 It is exactly what "Kimi ga Nozomu Eien" means. The main character, Takayuki Narumi, is extremely vulnerable in the relationship difficulties. (laughs).
Mr. Yoshimune:
 I wonder how many of those who ridiculed Takayuki as a slacker will actually be able to make everyone happy when they are in that situation, even if it is a few years later. I sometimes wonder if what is behind their deterministic point of view is an escape to "cut out the negatives to make oneself comfortable. "
 None of the characters in that story are responsible for that situation. If they are, they are all uniformly responsible, including Haruka who did not avoid the car. Even so, Takayuki blames only himself, and no one else is to blame, so he couldn't cut anyone off.
 People who are not involved in the story become emotionally upset and beat him up by negatively checking the words and actions of him and other concerned parties, even though no harm has been done to them, based on their own objective senses. You see this situation often in the media and on the Internet these days (laughs).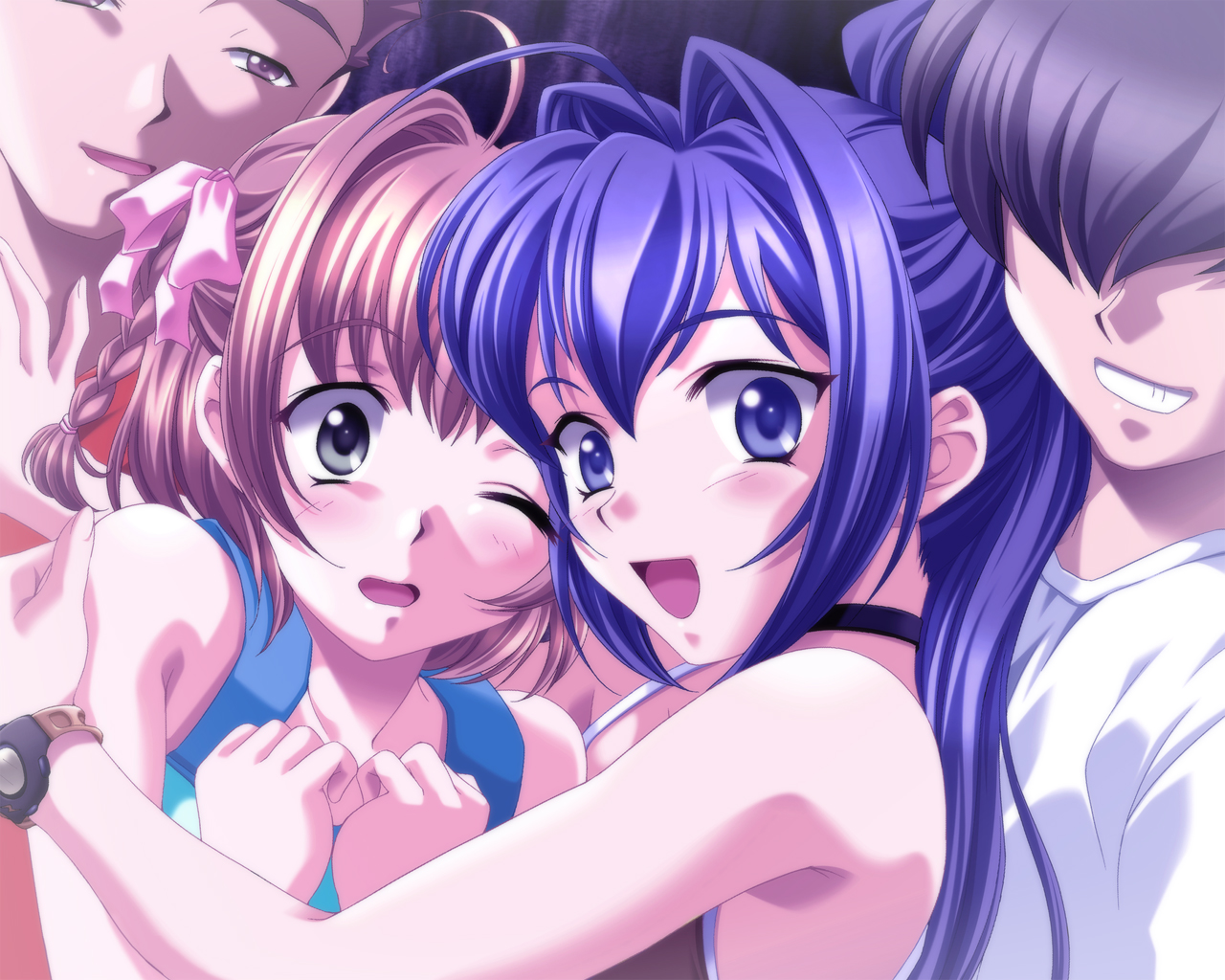 Kimi ga Nozomu Eien
BRZRK:
 Mr. Yoshimune once said somewhere that BETA is a symbol of the faceless masses beyond the internet.
Mr. Yoshimune:
 The point is communication failure. It is the same lack of compassion and imagination that I described in "Spiral Corridor."
 It is not only the other party's position that is not imagined. What is frightening is the fact that they are pouring out their emotionalism in a spinal reflexive manner on the Internet, where the logs can never be erased. They have no idea that in the future, when they get flamed for some reason or another, they or their families may be accused of being the wrong-doer, and ignore that responsibility. But people who are known as "silly (Baka) characters" don't get burned very often.
 This is because "people are creatures who only think of those inferior to themselves as cute," so if you are going to entrust a preachy and painful theme to a character like Takayuki or Takeru, a character like Takayuki or Takeru is exactly the right choice.
 If Takayuki were someone like Light Yagami from "Death Note," there would be no theme at all, and he would be absolutely repulsed and finished. When Haruka says, "Let's say goodbye," he will turn his head down and says, "Just as I calculated!" and eat potato chips (laughs).
Mafia Kajita:
 It would be a completely different work (laughs).
Mr. Yoshimune:
 What I mentioned earlier, that I packed a lot of things in a total war effort, these kinds of lessons were numerous. These are the many words of encouragement and pep talks I have received from people I have met, and they are as important to me as the themes, and I should pass them on to the next person. They are not limited to sermons and instruction.
 For example, when the hero Takeru confesses his feelings to Sumika, the heroine he has known since childhood, and is rejected during the route split in the "Muv-Luv" EXTRA version, he says something along the lines of: "I wanted something to happen."
 Sumika, who is insensitive to the fact that Takeru is trying his best to be good to everyone and is in a harem, gives up her stable position as a childhood friend and invites him to a private family bath to play a game with him. Takeshi accepts her invitation, but does not touch her at all. Sumika interprets this attitude as "I was not chosen."
BRZRK:
 That can't be helped (laughs). She thinks about a lot of things as usual.
Mr. Yoshimune:
 Yes (laughs). From a man's point of view, "Then you should have said it in words then!" In the case of pure love, men are more sensitive than women, and if the situation is unexpected, they might get startled, think it's a prank, become suspicious, and seemingly end up not doing anything.
Mafia Kajita:
 Was that also from …… actual experience (laughs)?
Mr. Yoshimune:
 It was a remark said by a woman involved in the work regarding a love story from the student days.
BRZRK:
 Wow.
Mr. Yoshimune:
 The real intention (true feelings) of the girl's side is the wisdom that should be conveyed, which is as important as preaching sermons and teaching when it comes to cheering for boys. The story itself is a story told from the woman's experience and memory, so it is told through subjective modification. That is why it is even more impressive when you know the person, and even if you don't, it has informational value for understanding women's hearts beyond the general theory.
Main character (player) growing up supported by strong adults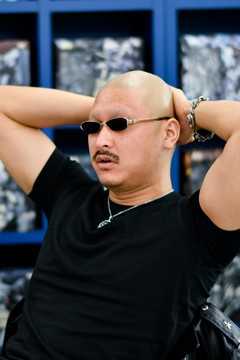 Mafia Kajita:
 But the art of creating scenarios from stories based on experience is a completely different kind of know-how from telling stories. For example, in "Muv-Luv," there are not only daily conversations, but also many military conversations and speeches. Like her highness Yuuhi for example.
BRZRK:.
 Radhabinod (Paul Radhabinod. Commander of the Yokohama Base in Japan), who appears in the work, is also a good speaker.
Mafia Kajita:
 Of course, no one made a speech like that in front of Mr. Yoshimune, right? How did you write something like that, for example?
Mr. Yoshimune:
 By the way, there was a politician who talked about Yuuhi as if she was a real person in his answer to the Budget Committee. Also, there was a man who used Radhabinod's speech as it was and even played the song "Carry On" (from "ALT") to move people and turn the tables in an election (laughs).
BRZRK:
 They are both the same person, aren't they (laughs)? You had an interview with that politician, right?
Mr. Yoshimune:
 I did (laughs).
Mafia Kajita:
 In a sense, the quality of the speech is such that it could be used by a real politician.
Mr. Yoshimune:
 Should I be a speechwriter or something? (Laughter).
Mafia Kajita:
 Of course. It's not something that just anyone can make.
Mr. Yoshimune:
 Basically, I think about what a character would say when placed in the situation of a chronological event, with a view to sublimating the theme in the way I just described. Then, I sometimes search for quotes from around the world that fit the direction of the theme and arrange them accordingly.
 For example, Michiru Izumi (a unit commander in "ALT. The Season You Were There") said to Takeshi, "Life is important, but if you love it too much, it rots." This is a quote from a father who goes to war with his child in some European country, I believe.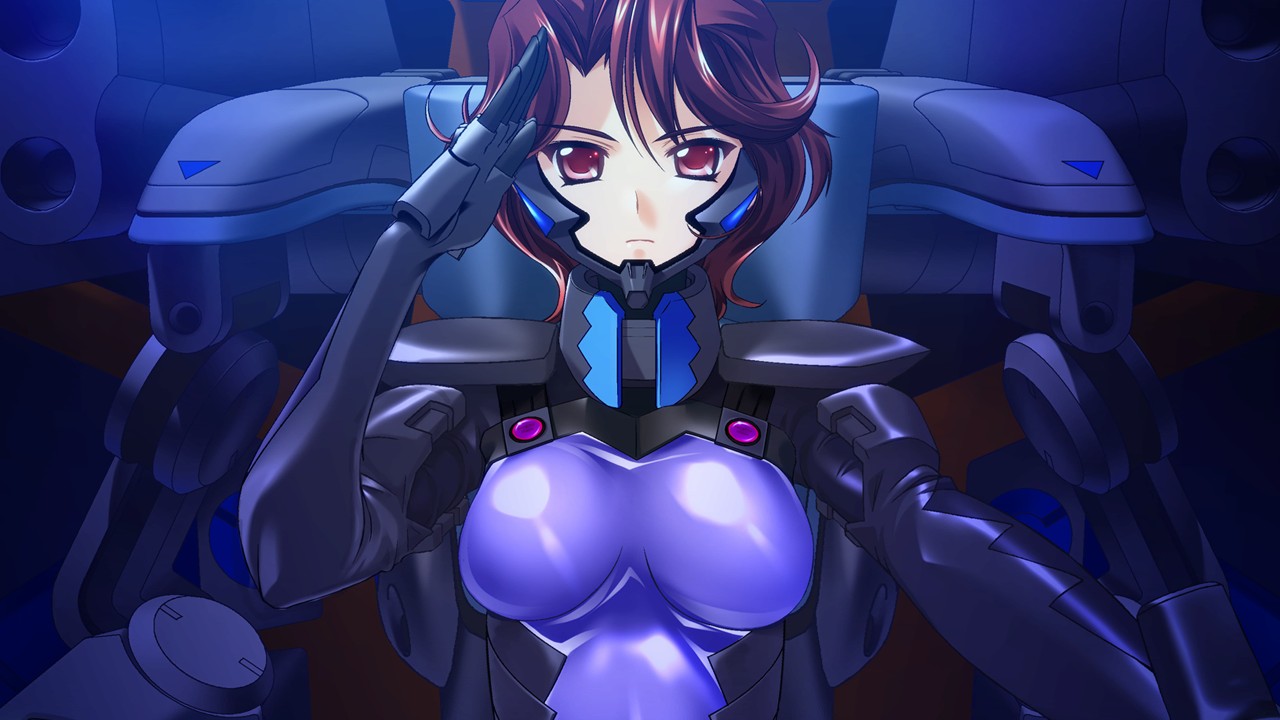 Isumi Michiru
Mafia Kajita:
 These are very heavy words……
Mr. Yoshimune:
 These days, "Kaiji" seems to be the sentence's origin (laughs). This father's state of mind is the same as in "Eirei no Kotonoha" isn't it? The situation alone is enough to make me cry. I have included quotes from all over the world that are in line with such a theme. I hope that people will be able to search for the quotes and find out what the situation was like.
Mafia Kajita:
 In the UNLIMITED and ALTERNATIVE editions of "Muv-Luv," the main character Takeru is constantly lectured by various people, but I feel that this is not really a commercially popular story.
Mr. Yoshimune:.
 What do you mean by "popular"?
Mafia Kajita:
 It is not a game of trying to make the player feel good.
Mr. Yoshimune:
 For many people, reality is bitter, and they don't want to go to the trouble of doing that in entertainment (laughs). That is why we make the sweet part that coats the surroundings of the highest quality and increase the portion to a mega size. Therefore, the structure is made in a way that the bitterness is only released when it cannot be spit out or impossible to remove.
Mafia Kajita:
 Oh, I've already eaten! What are you going to do about it! Is that what you mean?
Mr. Yoshimune:
 Yes, yes. It's like you know it's a stimulant after it's in your stomach.
Mafia Kajita:
 But even though I was being preached at during the game, I couldn't help but listen to it. Is there some kind of technique to control people's minds?
BRZRK:
 I think because the words touch my heartstrings, or maybe I listened attentively to them because there were parts that overlapped with me or that I resonated with …….
Mafia Kajita:
 Oh, indeed.
Mr. Yoshimune:
 First, I think many players are in a state of unconscious identity loss. It is said that now is the age of the desire for approval, but that is a desire for self-establishment, to have someone else approve of you. When confronted with something preachy or something that confronts them with reality, I think there are two types of players: those who are impatient and those who turn away even more. Those who are impatient are absorbed in it, and those who look away are angry. I think there are some who are totally indifferent in that sense, who feel nothing, good or bad.
 I think people who are impatient are afraid of their own emptiness, so when someone is talking about something that will benefit them there, they become anxious because of the psychological feeling that if they don't listen to it, they will be the only one who will lose. Therefore, they listen until the end, thinking that there is something more beneficial to be gained in the next part of the story.
BRZRK:
 Ah, I think I know what you mean. ……
Mr. Yoshimune:
 I think those who look away are motivated by self-preservation and keep doing it for the negative check that allows them to say, "See, it still sucks." In the customer service business, they say that responding to complaints is the greatest opportunity, and when negative people turn around, they become deep fans, so they actually maximize the impact while postponing it. (laughs).
Mafia Kajita:
 I see. For better or worse, we can't help but look at what's inside.
Mr. Yoshimune:
 In the past, under the influence of Nobuhiko Ochiai (a well-known journalist and novelist), I used to read a lot of translated books on intelligence and disinformation, and in the end, psychology is important in intelligence, publicity and presentation, as well as in other genres that deal with people.
Mafia Kajita:
 What specifically are you referring to?
Mr. Yoshimune:
 When we sell something, we have to think about who we are going to give it to, what we want them to think about it, and how we can make them think about it. That plan is everything. Content and quality only lead to continued purchases, and just because something is good, it will never sell unless there is a potential for a sequel. If you don't think about this process, no matter how good the product is, it will disappear without being known.
 In fact, at our company, many of the titles that I taught only PR know-how as part of my on-the-job training and was not directly involved with did not do very well.
Mafia Kajita:
 Even if the quality of the work is not bad?
Mr. Yoshimune:
 Since it was a newly launched separate brand, there was a lack of explanation and policy mismatch in the PR department. A company president I recently became friends with said to me, "When I saw that new brand, I thought, AGE is not a friend of moe-otaku, so why are you pretending to be a moe game?" At the same time, there were many cases of disappointment when comparing the quality of "Kimi Nozo" and "Muv-Luv," so perhaps preaching too much ended up mild and unsatisfactory.
 Well, for players who were not looking for our tendencies in entertainment, I guess they felt that we had been dropped from the list of candidates at the beginning because of our reputation on the Internet up to that point.
Mafia Kajita:
 I am confronted with a lot of things myself, you know.
Mr. Yoshimune:
 But neither Mr. Kajita nor Mr. BRZRK ran away when confronted with this point.
BRZRK:
 Well, yes, that's true.
Mafia Kajita:
 When I was actually playing the game, I said to myself, "I wish someone had said this!" I thought to myself, Instead of grasping the human nature, I was brainwashed. (laughs).
Mr. Yoshimune:
 Brainwashing. (laughs). As you can imagine, we did not calculate everything in advance. We analyzed the trends after the game was released, and some of what we said was the result of that analysis. But if you were so hooked on the game that you were brainwashed, that makes me happy.
Mafia Kajita:
 The adults in "Muv-Luv" are very mature. That may have been a major factor in my continuing to follow this work.
BRZRK:
 Ah, I understand. Many of the characters are mature in many ways. Even those who seem to be doing things cunningly at first glance have their own beliefs.
Mafia Kajita:
 Dr. Kouzuki Yuuko. She is a genius physicist and deputy commander of the UN base in Yokohama and Mikoto's father, Yoroi Sakon, Chief of the Second Foreign Affairs Section of the Imperial Ministry of Information are at the top of the list.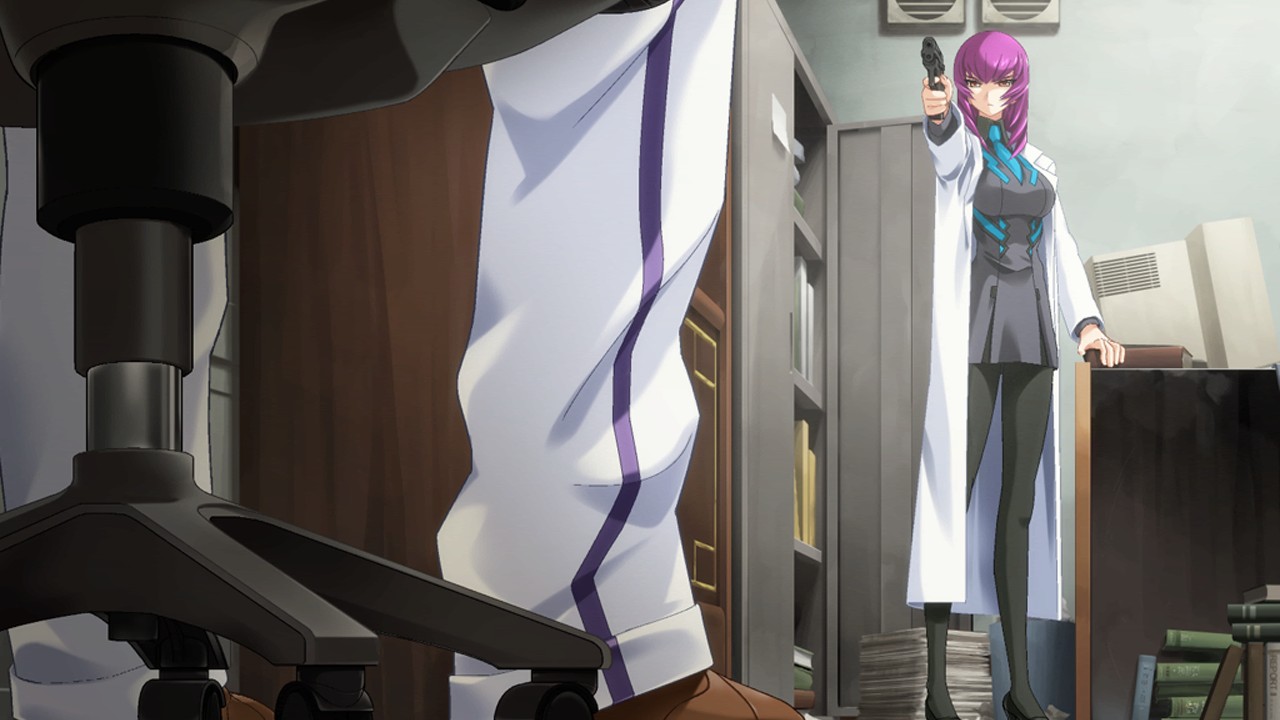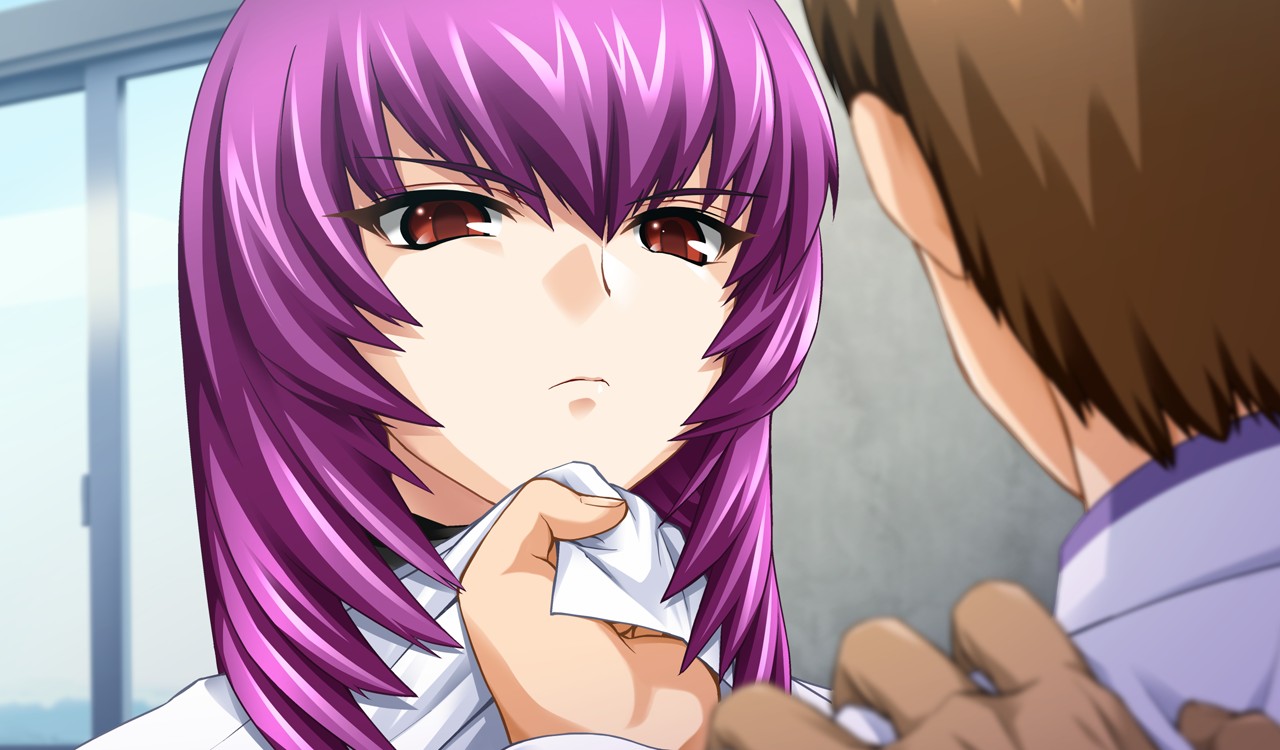 Mr. Yoshimune:
 Well, Yuuko is also considered a true heroine (laughs). Alfred Walken, for example, commander of the U.S. forces in the game, behaves unmannerly from the standpoint of the Empire, but he has justice and beliefs from the American standpoint, and he is consistent and unwavering in these beliefs. This is the strength of a man who has a "standpoint," and it is no wonder that he has become so popular.
Mafia Kajita:
 People who have a firm standpoint really have a strong core. …….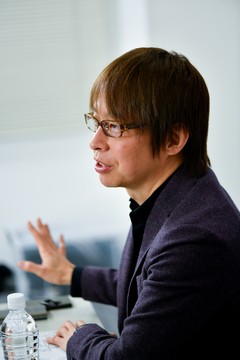 Mr. Yoshimune:
 The 12/5 incident (the attempted coup d'état that occurs in Alt) is the first turning point episode for Takeru, who has exhausted the advantages of the second round. Takareu, who had earned a reputation beyond his abilities and was still hesitant to face unknown difficulties, finds himself in a dilemma between his public agenda and his private ethics in the confrontational structure of real adults. The situation that Sumika was confronted with in the Extra episode, "Trying to choose everything is the same as choosing nothing," but in a different way and an opposite structure. However, unlike the UNLIMITED version, because Sumika was actively involved in the whole situation, even if it was only through pretense, he was followed around by adults who served as role models, and she was even able to obtain advice from Shogun Yuuhi.
BRZRK:
 I see, so that is the contrasting structure there.
Mr. Yoshimune:
 There are many contrasting structures in the EXTRA and ALTERNATIVE editions. For example, in the EXTRA version, Sumika and Meiya (Mitsurugi Meiya, the heroine of the story) are having a conversation in an outdoor hot spring bath, and Takeru can only listen to their conversation in the men's bath, which is separated by a wall. This is paired with the scene in "Alt" where they talk in Operation Cherry blossom at the A target and then settle things.
Mafia Kajita:
 Oh, really? Ah, but it has many different meanings, I see!
Mr. Yoshimune:
 The reason why I contrasted this situation, which is a common promise in eroge, with an important scene is that both are, in a sense, difficult choices we have to make in life. By overlaying the choices made in war, which are somewhat personal to those who are aware of the contrasting structure, on familiar choices made in the peaceful world, I tried to make them more familiar, more impressive, and more meaningful to the audience.
 Takeru was directly involved in the 12/5 incident, which led to a crisis in his unit, and yet he was given Triazolam (a drug for severe acceleration sickness.) It is a very dangerous drug that has caused deaths in some cases. But after that incident, he went through a series of harsh experiences, and in the last confrontation with the "A" target, he repeatedly struggled with whether he should let his comrades die while the fate of humanity was in his hands, and in the end, he gritted his teeth and pulled the trigger.
 After all that experience, he had grown only a few millimeters. But in fact, it is not that easy for a person to grow and change, and it is a tough road. It may seem harsh at first glance, but "Alt" acknowledges this. It is not the degree that is important. It is the will to continue to undergo severe change that should be praised the most.
BRZRK:
 Same people had opinions like: "The Shooting is slow!" or "You ain't grown up after all that experience!"
Mr. Yoshimune:
 Of course, we respect any thoughts and opinions, as they are the right of the players. But every time I hear them, I wonder if I can really do it under the same circumstances as before. I wonder if it is not "to end the pain of watching and to make myself comfortable." or I wonder if they can really prioritize the good of humanity over the life and death of those close to them.
BRZRK:
 I wondered if I had grown that much.
Mr. Yoshimune:
 Yes. It is hard to believe that a man who has grown in proportion to his experience, who has love for humanity, and who is able to understand the feelings of a suffering woman, would be unable to understand the suffering of a high school student who is going through something severe beyond his own stature, or would not allow for individual differences in growth speed (laughs).
 I often wonder what they think of the self-determination and free will of the deceased who voluntarily chose to do so, whether it was for the sake of the military or not.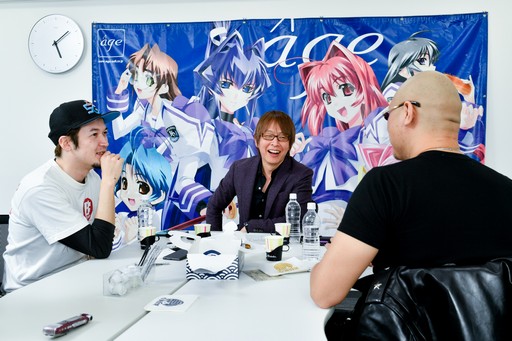 To be continued in Part 3.
Muv-Luv Recommended Articles and References